When I worked in Chelsea Market in New York City, I would stop by Amy's Bread at least twice a week for a muffin and coffee snack. As I've already established, muffins are one of my favorite foods to eat and to bake, so I was thrilled when my sister gave me the cookbook The Sweeter Side of Amy's Bread. Now I can have a bite of Amy's from my Boston apartment.
Zoe is still my little muffin monster. I usually have a stash of muffins in my freezer but yesterday I ran completely out. At some point she had a full on tantrum, crying "muffin, muffin, muffin" as though I was holding out on her. So today I wasted no time getting these in the oven.
These take a whole cup of butter! Yes, that's two whole sticks. I was horrified at first, but when my apartment started to fill with the aroma of butter baking, I got over it. Butter is good. Roll with it. These are dense, rich muffins, no extra butter or jam required when you serve them.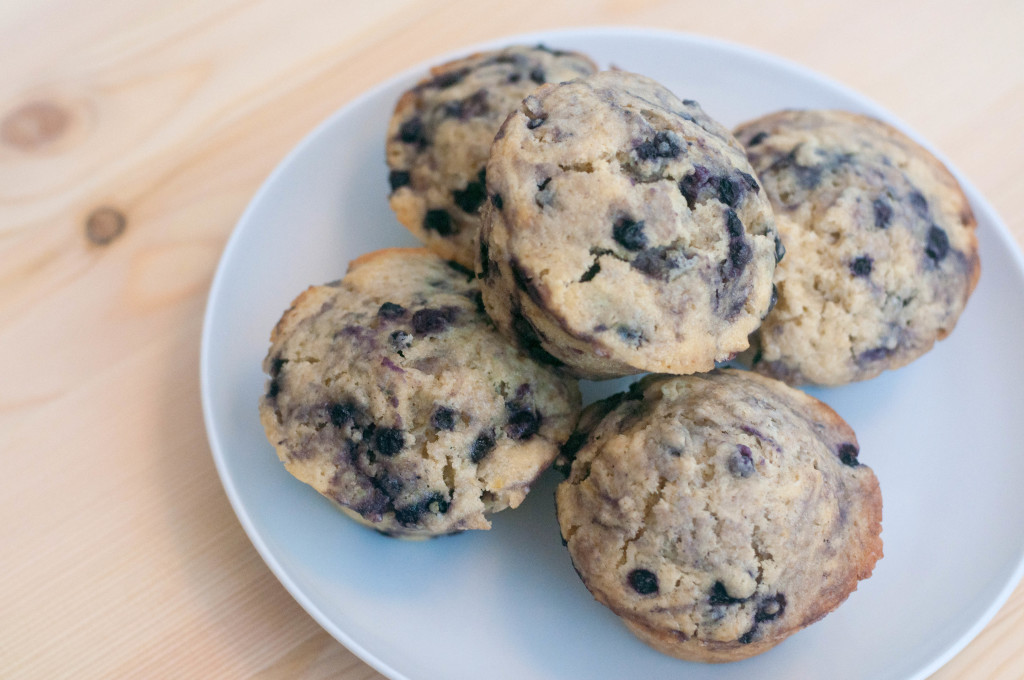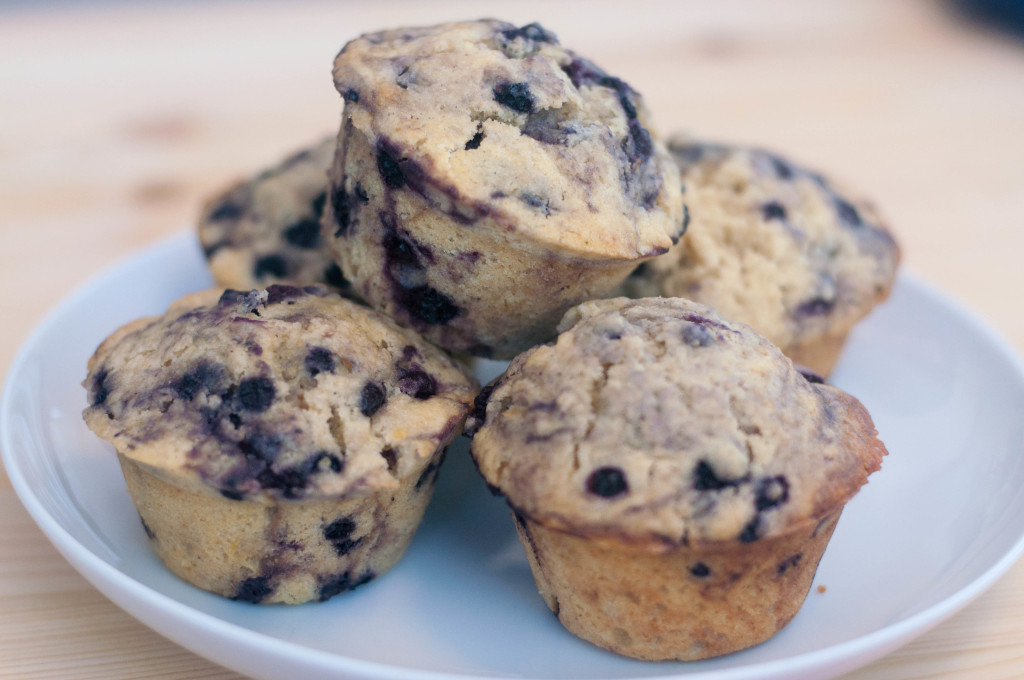 Blueberry Muffins
2016-01-24 12:57:40
Ingredients
1 1/4 cups white whole wheat flour
2 cups unbleached all-purpose flour
1 1/3 cups sugar
1 tablespoon baking powder
3/4 teaspoon salt
1 cup (2 sticks) unsalted butter, melted
3 large eggs
1 1/4 cups whole milk
Zest of 1 lemon
1 2/3 cups blueberries, fresh of frozen
Instructions
Preheat oven to 375 degrees F. Grease 12 muffin cups or line the pan with muffin papers.
In a large bowl, mix the flours, sugar, baking powder and salt. Mix the wet ingredients, the butter, eggs, milk and lemon zest, in a separate bowl. Gently stir the wet ingredients into the dry ingredients. When the batter is almost but not quite completely mixed, gently fold in the blueberries.
Spoon the batter into the prepared muffin cups. Bake for 10 minutes, and then rotate the pan and reduce the temperature to 350 degrees F. Bake 10-14 minutes more, until a toothpick inserted into the muffins comes out clean.
Cool muffins in the pan for 10 minutes, then place on a wire rack to cool completely.
Notes
The original recipe is for 12 large muffins, but I made 12 medium-sized muffins plus 14 mini muffins (which baked in about 12 minutes). I like to use frozen wild Maine blueberries for muffins, since they're small and spread out nicely through the batter. Keep them frozen until you're ready to mix them in, or you'll end up with blue muffins!
Adapted from The Sweeter Side of Amy's Bread
Dumplings & Doughnuts http://www.dumplingsanddoughnuts.com/