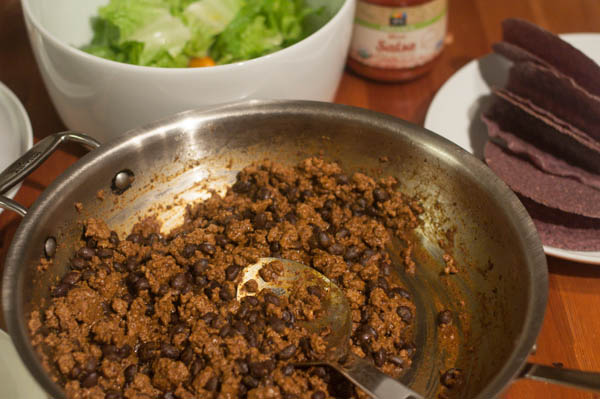 Sometimes it's the little things, like Taco Tuesday on Cinco de Mayo, that really make me happy. I had other plans for dinner Tuesday, but strolling through Whole Foods with their huge displays of nachos and salsa samples, I succumbed to the power of suggestion and picked up a few taco ingredients. One thing I didn't pick up? Taco seasoning. I love mixing my own tweak-able, MSG-free (you'd be surprised how many ingredient lists include hidden names for MSG), version.
When Geoff and I don't feel like cooking dinner Chipotle is our go-to take-out spot, but this was the quickest and easiest dinner I've made in a while — taco night (instead of Chipotle night) might become a regular thing for us. I add a can of beans to the ground meat for a healthier and budget-friendly twist. Then I serve with tortillas, taco shells (I picked up an organic blue corn taco shell from Whole Foods that was fantastic) or even just with nachos. And don't forget about all the taco toppings! This little fiesta meal comes together in no time.

Taco Seasoning
2015-05-06 22:24:12
Ingredients
1 tablespoon flour
1 tablespoon chili powder
2 teaspoons salt
1/2 teaspoon garlic powder
1 teaspoon turmeric
1/2 teaspoon cumin
1 teaspoon cayenne powder
1/2 teaspoon oregano
For tacos
1 pound ground beef or turkey
1 15-ounce can black beans
Taco shells or tortillas
Optional toppings: lettuce, chopped tomatoes, salsa, shredded cheese, sour cream
Instructions
Mix all seasoning ingredients together in a bowl.
In a large skillet over medium-high heat, brown the ground meat. Add drained and rinsed black beans. Add 1/4 cup water and all of the seasoning mix to the pan and simmer for a few minutes until a sauce has formed. Serve with taco shells and toppings.
Adapted from Serious Eats
Dumplings & Doughnuts http://www.dumplingsanddoughnuts.com/