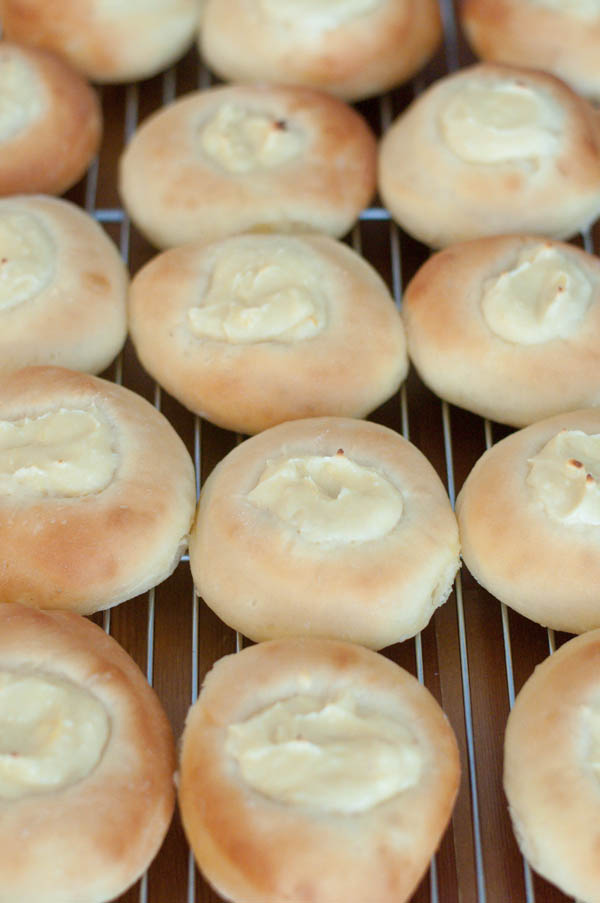 They say that the sense of smell is the one most closely linked to memory, and I know it's true whenever I catch a whiff of yeast blooming, raising or baking. I'm instantly whisked away to Saturday mornings at my Grandma Lois' house 30 years ago, sitting in her comforting oven-warmed kitchen and devouring my favorite treat, freshly baked kolaches.
Kolaches are a Czech pastry, but Grandma Lois wasn't Czech; she was half-Swedish and half-Irish. But having grown up cooking for the farm crew on her family's farm, she could cook or bake anything with ease. She was the perfect person to preserve and pass along my Great Grandma Vala's secret kolache recipe from "the old country."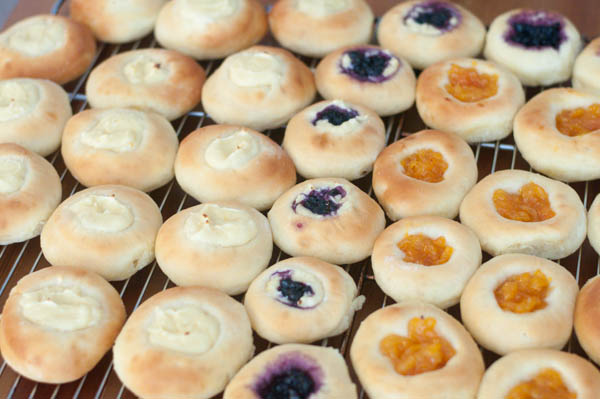 As the family story goes, soon after marrying my Grandpa Ernie, Grandma Lois spent a day making kolaches with her Czech-American mother-in-law, and that's all it took. She made kolaches to share with family every other weekend, usually alternating with gooey pecan rolls (recipe coming soon). As a "good Swede," she appreciated having a sweet pastry with a cup of black coffee between meals, what I now realize is a Swedish version of afternoon tea called fika. In a happy melding of cultures, kolaches were always the best fika treat at my grandparents' house.
My sisters and I have kept up the tradition of making kolaches for family get-togethers and special occasions. We're always experimenting with different fillings as well, branching out beyond the traditional poppy seed and prune fillings. My favorite is cream cheese, which I often top with a touch of fruit filling.
Grandma Vala's Kolache Recipe
2015-03-08 18:46:20
Ingredients
2 packages dry regular yeast (not quick-rise yeast)
1/2 cup sugar
1/2 cup butter (1 stick), melted, plus 5 tablespoons (divided)
2 egg yolks
2 cup half & half (1/2 pint), warmed
2 teaspoons salt
5 to 5 1/2 cups flour
Fruit or cream cheese fillings (see below)
Instructions
In a the bowl of a stand mixer dissolve the 2 packages yeast in 1/2 cup warm water (it should feel like bath water). With the mixer on low, mix in the sugar, melted butter, egg yolks, half & half and salt. Add the flour slowly, to make a slightly sticky, soft dough (you may not need to add all the flour, or you may need a little extra). Beat well and let rise in a warm place until doubled (about 1 to 1 1/2 hours).
Grease 3 baking sheets with 2 tablespoons butter, or line with parchment paper. Preheat oven to 425 degrees F. Melt remaining 3 tablespoons butter and set aside.
Place raised dough on a floured work surface and use your hands to gently press it out to 3/4-inch thickness. Cut the dough into circles with a 2 to 2 1/4-inch round cookie cutter. Place on prepared cookie sheets 1-inch apart. Press down center of dough firmly with your fingers to make an indention, and spoon in about 1 tablespoon filling. Let rise for 30 minutes more.
Bake kolaches for 7 to 10 minutes, or until just golden brown; do not over bake! Remove from oven and brush with melted butter. Transfer to a wire rack to cool and dust with powdered sugar before serving. For the best flavor and texture, serve these the same day they are baked.
FILLING OPTIONS
For a quick fix, you can use almost any canned pie filling from the grocery store. My grandma would often use Solo brand fillings in prune, poppy seed and apricot, as well as a cherry pie filling. Here are some recipes for homemade options. The best fillings are thick, so they don't spill over the side when baked. My absolute favorite is to have the cream cheese filling underneath a dab of fruit filling.
Cream Cheese Filling (My Favorite!)
8 ounces cream cheese, room temperature
1/4 cup granulated sugar
3 tablespoons all-purpose flour
1 egg yolk
1/2 teaspoon vanilla extract
1 teaspoon lemon zest
Mix the cream cheese and sugar together. Stir in the flour, egg yolk, vanilla, and lemon zest until smooth. Refrigerate until ready to use.
Makes enough for 18 kolaches
Blueberry Filling
12 oz. fresh or frozen blueberries
3/4 cup sugar
1/2 tsp. lemon juice
Combine the blueberries, sugar, lemon juice, and 1/4 cup water in a 2-qt. saucepan over medium-high heat. Cook, stirring occasionally, until thickened, 15 minutes. Remove pan from heat and mash the blueberries with a potato masher until chunky. Cool before using.
Makes enough for 24 kolaches
Apricot Filling
4 oz. dried apricots
2 tablespoons sugar
1/2 teaspoon lemon juice
Combine the apricots, sugar, lemon juice and 1 1/4 cup water in a small saucepan over medium-high heat. Cook, stirring occasionally until apricots are plump and tender, about 15 minutes; remove pan from heat and let cool slightly. Add the apricots and the water to a food processor and pulse or puree until desired texture.
Makes enough for 16 kolaches
Dumplings & Doughnuts http://www.dumplingsanddoughnuts.com/