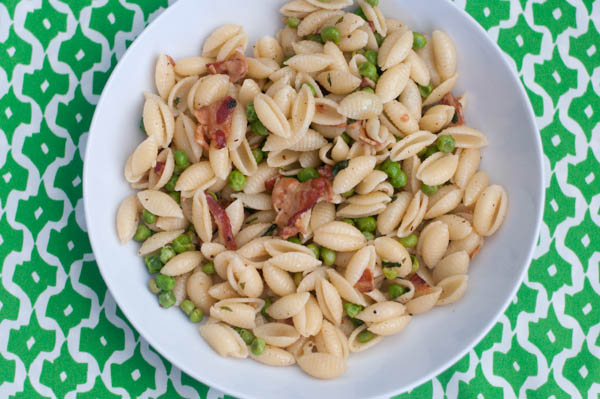 We spent last Christmas up in Toronto with Geoff's family, and while there (hunkering down in the house, out of the cold and snow) I picked up his Mom's copy of Jamie's Food Revolution and read it from cover to cover. Geoff and I already have quite a collection of Jamie Oliver cookbooks but this is not one I would normally buy — it just seems too simple and basic. But the more I read it, the more I realized, these are the meals I need to be making now. They're just easy, get-some-good-food-on-the-table meals.
Still I resisted. We left Toronto and I looked up a few of the recipes online. Then I checked the book out from the library, and had it overdue, and re-checked it out again until it was overdue once again. And then, to salvage my relationship with the library, I went ahead and bought the cookbook. I mean, I don't use half the cookbooks I own as much as I had used this borrowed one, so I figured I might as well add it to my bookshelf.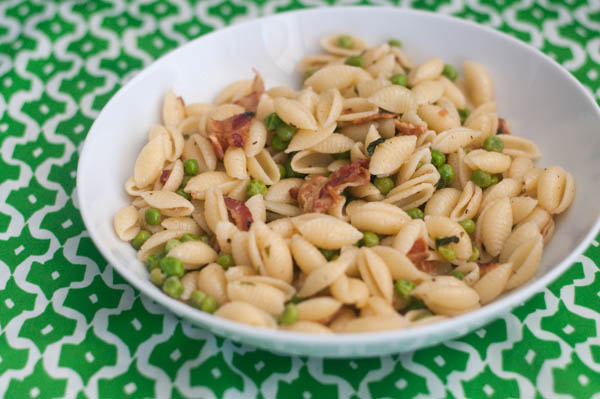 This is my favorite recipe so far. I know, I don't really need another pasta recipe to add to my rotation — the Fongs eat way too much pasta as it is. But I've whipped up this somewhat indulgent dish several times recently, always using Zoe as an excuse. She does love it (and she even eats the peas), but the truth is that I love it too. This is one of those golden dishes that the three of us can enjoy together.
Creamy Pasta with Bacon and Peas
2015-04-22 14:13:14
Ingredients
1 pound mini shells or other dried pasta
1 tablespoon olive oil
1 tablespoon butter
10 slices bacon or pancetta, finely sliced
Salt and pepper
2 cups frozen peas
2 tablespoons creme fraiche or heavy cream
A small bunch of fresh mint, chopped
1 lemon, juiced
6 ounces Parmesan cheese, grated
Instructions
Bring a large pot of water to a boil and salt the water. Add the mini shells and cook according to the package instructions.
In a large frying pan over medium heat, add a tablespoon of olive oil and the butter. Add the bacon to the pan and fry until crispy. Sprinkle a little pepper onto the bacon as it's cooking.
When the bacon is golden, add the frozen peas and stir together. Let them cook for about a minute and then add the creme fraiche and mint to the pan. Drain the pasta, reserving a cup of cooking water, and add it to the pan. Add the lemon juice to the pasta. When it's bubbling, remove it from the heat. The sauce should be creamy and silky -- add a few spoonfuls of the reserved pasta cooking water if it needs thinned out. Stir in the grated Parmesan cheese and serve.
Adapted from Jamie's Food Revolution
Dumplings & Doughnuts http://www.dumplingsanddoughnuts.com/