My connection to Swedish pancakes is a little confusing, since it's my paternal grandma (Grandma Lois) who was Swedish. I remember her making Swedish pancakes for me when I was young, telling me about how lingonberries were grown under the "midnight sun" and offering me black coffee (how can something that smells so good taste so bad to a little girl?).
But, it's actually my maternal grandpa (Grandpa Chuck) whose specialty has always been making pancakes. My family still has a wonderful little tradition of going to his house for either classic buttermilk or Swedish pancakes. When I swoop into town I usually call him to put in my request, telling him how many of us (parents, sisters, brother-in-law, husband?) are coming. He has the batter mixed and the table set when we arrive.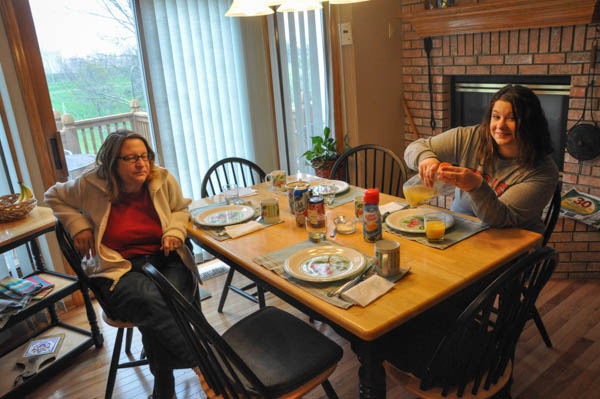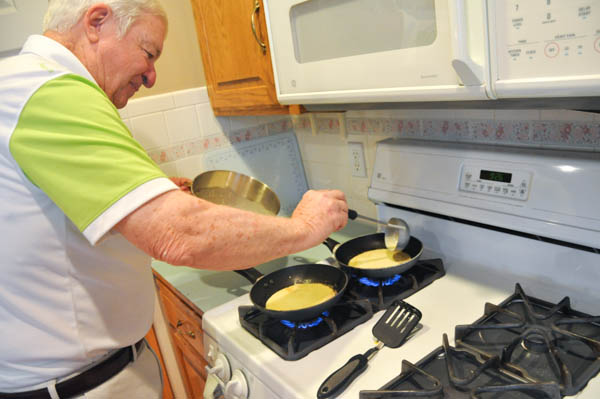 Swedish pancakes are my all-time favorite pancake, and I LOVE pancakes. They're flat and unlevened, like a crepe but more egg-y and flavorful. I actually use my crepe pan and a 10-inch blue steel pan to make these, and Grandpa uses two small nonstick pans (using two pans at once means you're making pancakes twice as fast). Before adding the batter to each pan you throw in a smidgen of butter, so the pancakes have a rich butter flavor.
There's a trick to eating Swedish pancakes. First you sprinkle a little sugar on the top, then you spread on a dollop of lingonberry preserves (or other fruit, if you prefer), and roll the pancake up. But wait, you're not done! Top it off with whipped cream and maybe a touch of maple syrup.
The batter doesn't have any sugar in it, but by the time you're done decking these pancakes out they're sweet and tart from the lingonberries and just plain addictive.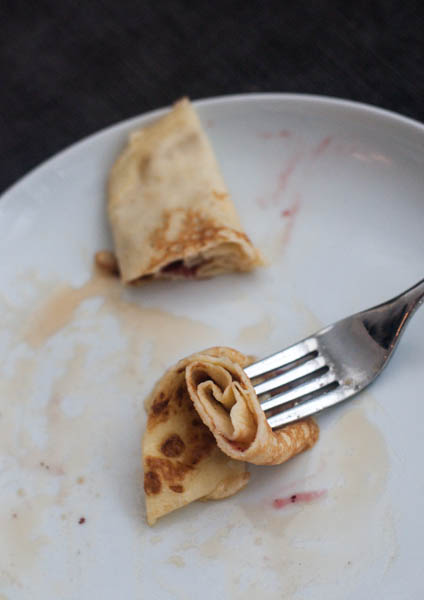 Grandpa Chuck's Swedish Pancake Recipe
2015-03-28 08:14:12
Ingredients
5 eggs
2 cups milk
1 cup flour
1/2 teaspoon salt
3 tablespoons butter, for the pan
For serving: lingonberry preserves, sugar, whipped cream, maple syrup
Instructions
Whisk the eggs and milk in a large bowl, and then add the flour and salt. Whisk to combine but don't worry about the lumps.
With the butter standing by, heat a 9 to 10-inch pan (a crepe pan works great) over medium heat. When it's hot but not smoking, put a little butter in the pan and swirl it around. Ladle in scant 1/4-cup pancake batter and swirl the pan so the batter spreads out evenly. Let it cook for a minute, until the underside is lighht brown. Use a spatula to flip the pancake over and allow to cook for another 40-seconds to a minute, until the second side is browned. Move the pancake over to a plate and repeat with the remaining batter. If you have two pans of the right size, using them both speeds up the process.
To serve, lay a pancake flat on your plate and sprinkle a little sugar onto the pancake. Then spread on lingonberry (or other) preserves or fruit. Roll it up and repeat with one or two more. Then top with whipped cream and maple syrup if you like, and dig in!
Notes
- The higher fat milk you use, the richer these pancakes will taste
- For best results bring all ingredients to room temperature before mixing.
- You can easily clarify your butter so it doesn't smoke as much. Just melt it in the microwave and then use a spoon to dip the butter onto your pans, only taking the liquid part on top and leaving the butter solids in the bottom.
Dumplings & Doughnuts http://www.dumplingsanddoughnuts.com/