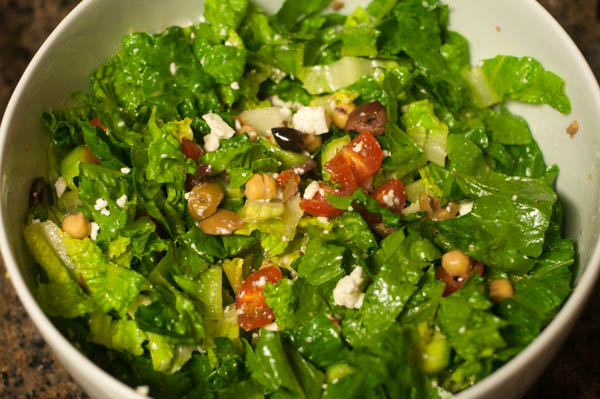 I used to eat a little bit of salad every once in a while, but then I met Geoff, my husband. He introduced me to the joy of eating large salads every day. And he has two salad rules he lives by: 1) A salad is more than just lettuce and dressing, and 2) Dressing does not come from a bottle. It took me a while to adapt to his rules, and I hate being bossed around in the kitchen, but I can honestly say my salads are much better now than they were before. And healthier too!

Greek salad is something I never knew I needed a recipe for, until I found this one in the July/Aug 2009 issue of Cook's Illustrated. In classic Cook's Illustrated fashion, just a few simple tricks elevate the flavors: pre-salting the cucumber and the tomatoes (to draw out moisture), using equal parts vinegar and oil, grating in fresh garlic, marinating the add-ins with the dressing and making it all "chopped." Add a generous amount of feta cheese and Greek salad has never tasted so good.
Chopped Greek Salad
2015-03-22 13:20:50
Ingredients
1 cucumber, peeled, halved and seeded, and cut into 1/2-inch dice
1 pint grape tomatoes, quartered
Salt
3 tablespoons olive oil
3 tablespoons red wine vinegar
1 medium garlic clove, minced or finely grated
1 (14-ounce) can chickpeas
1/2 cup kalamata olives, chopped
1/2 small red onion, minced
1/2 cup fresh parsley, chopped
1 large romaine heart, cut into 1/2-inch pieces
4 ounces feta cheese, crumbled
Instructions
In a large sieve or colander set over a bowl, stir together cucumber, tomatoes and 1 teaspoon salt. Let sit for 15 minutes so the liquid gets drawn out.
Whisk oil, vinegar and garlic in a large bowl. Stir in the chickpeas, olives, onion, parsley and the cucumber and tomato mixture. Let stand at room temperature for 5 minutes while the flavors meld together.
Add the romaine and crumble in the feta cheese with your fingers. Toss everything together to combine. Season with salt and pepper to taste, and serve.
Adapted from Cook's Illustrated, July and Aug 2009
Dumplings & Doughnuts http://www.dumplingsanddoughnuts.com/