As I mentioned before, I love making baby (and now toddler) foods. But it's a three-step process: 1) Buy the ingredients, 2) Cook the food, and 3) Freeze the food within 2-3 days. As the steps progress, I get more and more challenged. So, last night (or this morning) at midnight I realized I still needed to freeze a large bowl of baked sweet potatoes I had in the fridge. On my way to bed I stopped to diligently portion out the chunky potatoes into my cute freezer trays, only… they didn't all fit. So, what to do with leftover baked sweet potatoes?
Bake muffins, of course! I adore muffins — they're simple, easy, quick and cake-like without being cake. In baked goods, sweet potatoes are basically just sweet pumpkin, so I looked up "pumpkin muffin" recipes and chose one that looked easy and foolproof (it was midnight after all). I was delighted to find an old Gourmet magazine (Nov 2006) recipe written about on one of my favorite all-time blogs, Smitten Kitchen. (Aww, Gourmet… I could find that same magazine issue right now if I had to, lovingly tucked into one of my bookshelves).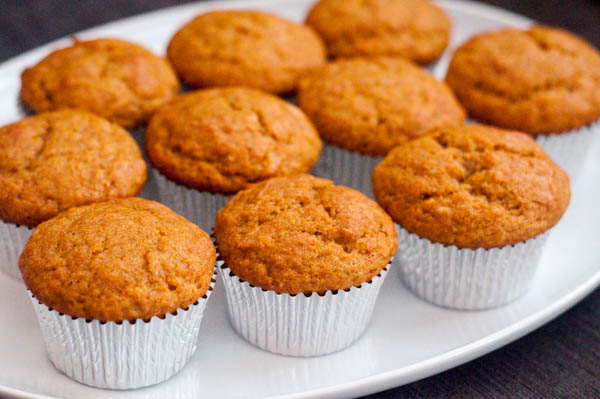 I swapped in sweet potatoes for pumpkin and whole wheat flour for 1/2 cup of all-purpose flour, plus left out 1/4 cup of sugar, since sweet potatoes are sweeter than pumpkin. I did forget to sprinkle the cinnamon-sugar topping on these before baking, but I was glad to cut the sugar down even more.
I don't know if it's because I haven't tasted anything pumpkin-y since November, but these turned out rich, moist and simply divine. I decided there's nothing wrong with eating fall spices in the spring — these are on my year-round favorites list now.
Sweet Potato Muffins
2015-03-29 20:32:00
Ingredients
1 cup all-purpose flour
1/2 cup whole wheat flour (or additional all-purpose flour)
1 teaspoon baking powder
1/2 teaspoon baking soda
1/2 teaspoon salt
1/2 teaspoon cinnamon
1/4 teaspoon nutmeg
1/4 teaspoon ground ginger
A pinch of ground cloves and allspice
1 1/3 cups sweet potato, roasted, mashed and cooled completely
1/3 cup vegetable oil
2 eggs
1 cup granulated sugar
For topping: 1 tablespoon sugar and 1 teaspoon cinnamon (optional)
Instructions
Heat oven to 350 degrees F, and put muffin cup liners into muffin pan.
In a small bowl, stir together the flours, baking powder, baking soda, salt and spices.
In a large bowl whisk the pumpkin, oil, eggs and sugar. Stir the dry ingredients into the wet ingredients until they're just combined. Divide the batter between the 12 muffin cups, filling each about 3/4 full.
For the topping, stir together the remaining cinnamon and sugar, and sprinkle over the top of each muffin.
Bake until a cake tester poked into the center of a muffin comes out clean, about 25 to 30 minutes.
Cool in the pan for 5 minutes and then transfer to a wire cooling rack.
Notes
These taste great a day and even 2 days after baking, kept in an airtight container at room temperature.
Adapted from Smitten Kitchen

Dumplings & Doughnuts http://www.dumplingsanddoughnuts.com/

Sweet potatoes are Zoe's favorite vegetable these days. And since being a toddler evidently means learning to spit out peas and broccoli, I'm so grateful she's still stuffing handfuls of baked sweet potatoes into her mouth with enthusiasm. I've mixed mashed sweet potatoes with quinoa, rice, yogurt and even lamb stew! She eats it all (knock on wood).