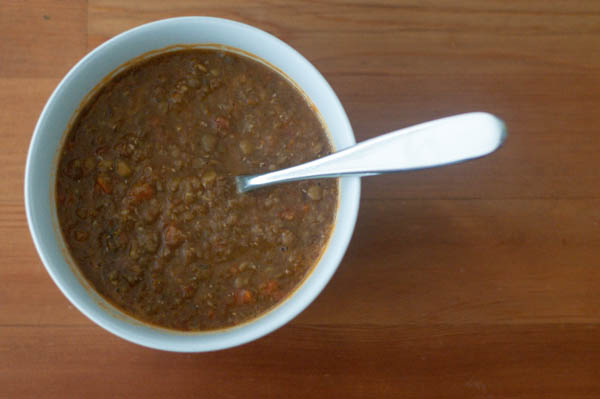 I know, I know, this soup really doesn't look like much. That's what I think every time I make this, but it's also why I'm always so surprised when I take my first bite. Mmm, yes, lentils are good. They make amazing soup that's healthy, filling, budget-friendly and delicious.
I always struggle with lunches. When I worked in an office building I usually bought my lunch (I miss Chelsea Market so much!), and one of my favorite lunch stops was Hale and Hearty Soups. You can always count on a humble cup of soup to make an easy, satisfying lunch. At home I make large batches of soup so I can freeze the leftovers in single serving containers (and ice cube trays for Zoe) — a perfect lunch solution.
Along with this lentil soup recipe I also just posted my recipe for homemade chicken stock. I love the convenience of boxed chicken stock as much as the next person, and I use it all the time… for myself and Geoff. But for my baby girl, I'm just not sure I trust all the ingredients to be pure enough, the salt to be low enough or the packaging to be safe enough. She's growing so much every day and she eats very little (compared to an adult), so I make her homemade chicken stock. And it's not hard at all! I usually start it when she's taking a nap, on a day when I don't have anywhere important to go, and let it simmer away. If I'm in a hurry, I use Geoff's pressure cooker to cut the cooking time in half.

Lentil Soup
2015-03-21 21:52:29
Ingredients
3 tablespoons olive oil
1 large onion, chopped
1 large carrot, chopped
1 celery stock, chopped
1 teaspoon salt
1 pound lentils, rinsed and picked over
1 28-oz can crushed tomatoes
8 cups chicken stock, homemade or low-sodium
1/2 teaspoon ground coriander (optional)
1/2 teaspoon ground cumin (optional)
Instructions
Add oil to a large pot over medium heat. Add the onion, carrot, celery and salt. Cook until softened and onions are translucent (about 7 minutes), sweating them without letting them brown. Add the lentils, tomatoes, stock and spices if using and stir. Turn the heat up to high and bring to a boil. Cover, reduce heat to low and let simmer for about 40 minutes, until lentils are tender. You can eat it as is or use a stick blender to puree it to a chunky or smooth consistency.
Adapted from Alton Brown
Dumplings & Doughnuts http://www.dumplingsanddoughnuts.com/