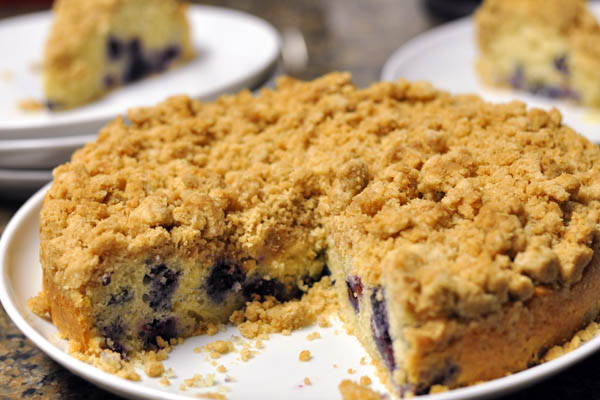 Have I mentioned how much I love simple, no-fuss cakes like this? I've had my eye on this Ina Garten Blueberry Crumb Cake recipe for years, and I finally got around to baking it for some friends. It's simple yet elegant, equally as appropriate as a breakfast treat or as a dessert for a little get-together.
I was really surprised by the amount of crumb topping that gets piled onto this cake – it's a legitimate, Jersey/New York-style crumb cake! With this crunchy, sweet crown, there's no need for any embellishments after it's baked. Just slice and serve. So easy.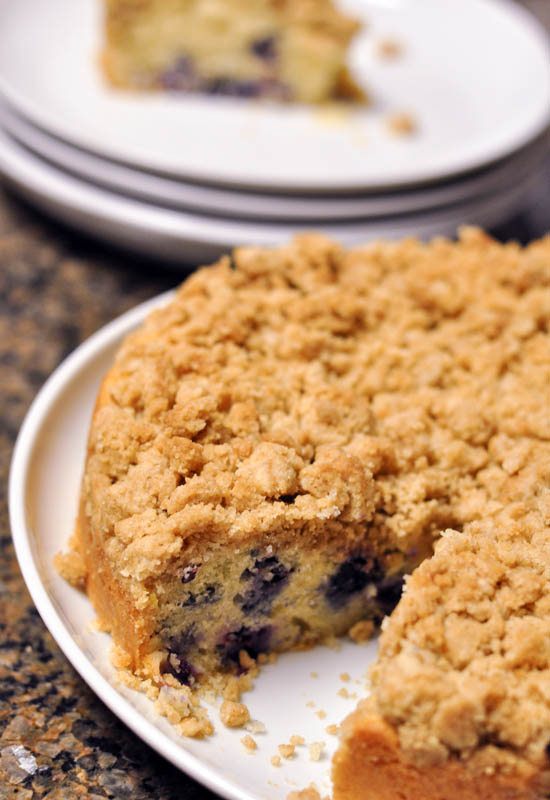 Blueberry Crumb Cake
2015-03-21 23:56:30
Topping
1/4 cup sugar
1/3 cup brown sugar, packed
1 teaspoon cinnamon
1/8 teaspoon nutmeg
8 tablespoons (1 stick) unsalted butter, melted
1 1/3 cups flour
Cake
6 tablespoons (3/4 stick) unsalted butter, at room temperature
3/4 cup sugar
2 extra-large eggs, at room temperature
1 teaspoon vanilla extract
1/2 teaspoon grated lemon zest
2/3 cup sour cream
1 1/4 cups flour
1 teaspoon baking powder
1/4 teaspoon baking soda
1/4 teaspoon salt
1 cup fresh blueberries
Powdered sugar for dusting
Instructions
Preheat oven to 350 degrees F. Butter and flour a 9-inch round pan.
Streusel topping
In a medium bowl, mix together the sugar, brown sugar, cinnamon and nutmeg. Stir in the melted butter and flour. Mix and set aside.
For the cake
In a large bowl, sift together the flour, baking powder, baking soda and salt.
In an electric mixer fitted with a paddle attachment, cream the butter and sugar on high speed for 5 minutes, until light. On low speed add the eggs one at a time, and then add in the vanilla, lemon zest and sour cream. Then mix in the flour mixture until just combined. Fold in the blueberries by hand and stir the batter with your spatula to make sure it's evenly mixed.
Spread the batter evenly into your baking pan. Then use your fingers to crumble the topping evenly over the batter.
Bake for 40-50 minutes or until a toothpick inserted into the middle of the cake comes out clean. Cool completely and sprinkle with powdered sugar before serving.
Adapted from Ina Garten
Dumplings & Doughnuts http://www.dumplingsanddoughnuts.com/