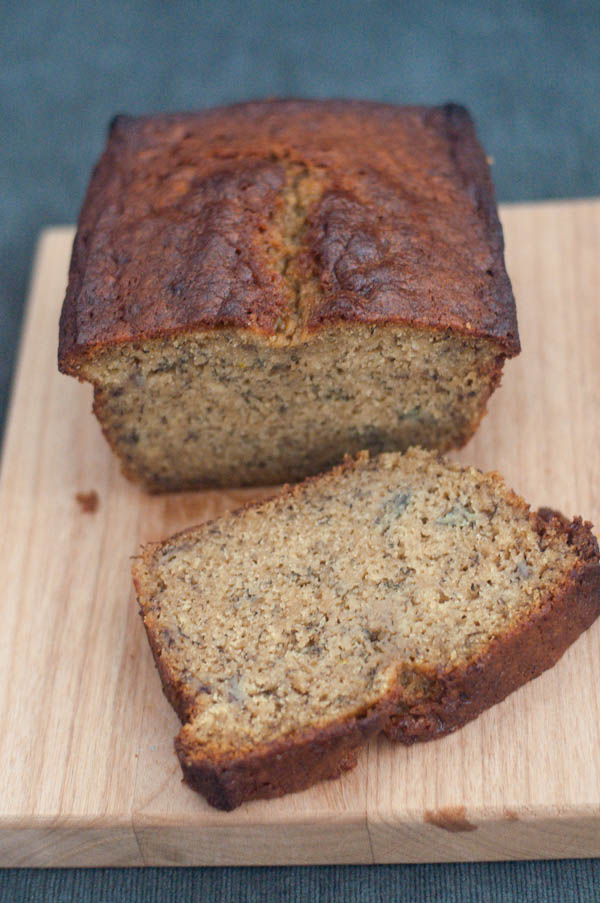 If anyone should know that online recipes are fickle, fleeting and changing, it should be me. As a former online editor for several food websites, I know URLs are not permanent and access to favorite recipes is not guaranteed to last forever. So, that being said, I don't know why I was so shocked when I did my normal google search for "my" banana bread recipe (actually an Emeril Lagasse recipe), the one I've been making for years, and it wasn't where it was supposed to be. Did I copy and paste it somewhere, did I save a file of it, did I print it out? No. All I had to go on was my habitual google search and a URL I dug up that led to a 404 error page.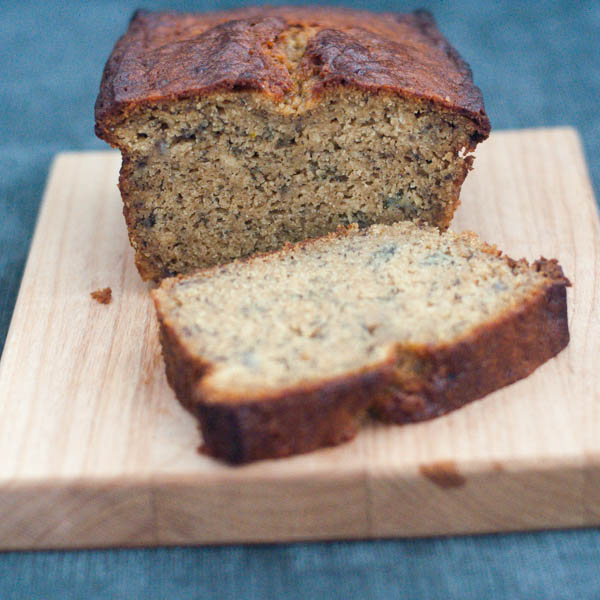 But, it turns out I remembered a few of the key ingredients: vegetable oil, brown sugar and sour cream. (All combine to give this banana bread the moist richness that I fell in love with the first time I made it.) Searching through all the "Emeril" banana bread recipes out there, I thankfully found my match.
So here it is! I'm posting it here for me as much as for you — I'm not going to let this one get away again.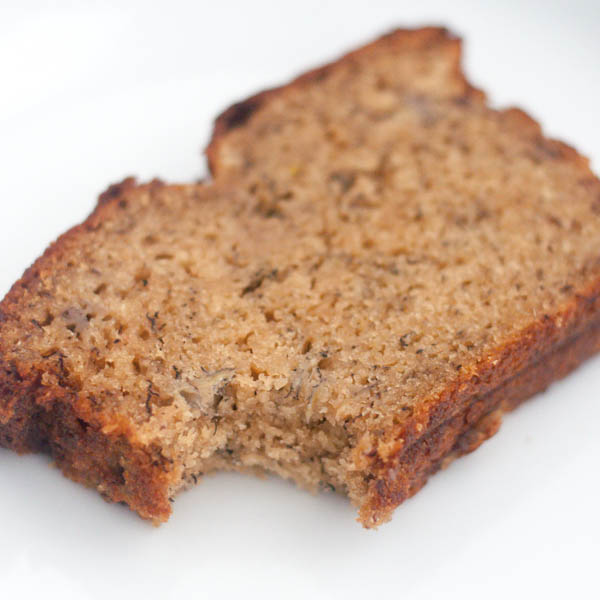 Banana Bread
2015-03-05 12:08:47
Ingredients
1 teaspoon unsalted butter
2 eggs
1 cup packed brown sugar
3/4 cup vegetable oil
1/2 cup sour cream
3 ripe bananas (about 1 1/3 cup mashed)
3/4 teaspoon cinnamon
1 teaspoon baking soda
1 teaspoon baking powder
1 teaspoon pure vanilla extract
1/2 teaspoon salt
3/4 cup chopped walnuts or chocolate chips (optional)
1 3/4 cups all-purpose flour
Instructions
Center a rack in the oven and preheat to 350 degrees F. Grease a 9" x 6" loaf pan with the butter and set aside.
In a large bowl, mix together the eggs, sugar, oil and sour cream. Whisk until smooth.
Peel the bananas, put them into a small mixing bowl and mash with a fork.
Add the mashed bananas to the egg mixture, along with the cinnamon, baking soda, baking powder, vanilla extract, salt and walnuts or chocolate chips if using. Whisk until combined.
Add the flour and stir with a spoon until just combined, being careful not to overmix.
Pour the batter into the prepared loaf pan and bake in the center of the oven until the top is golden brown and risen, about 1 hour and 10 minutes. A toothpick or wooden skewer inserted into the center of the loaf should come out clean, with just a few crumbs clinging to it.
Let the bread cool for 15-20 minutes in the pan before turning it out onto a wire rack to finish cooling.
Notes
You can make this with or without walnuts, or even throw in some chocolate chips. Greasing the pan with butter makes a delightful crispy brown edge on the bread. I've swapped vegetable oil for olive oil and it's great, just a different flavor. My pan is just a bit smaller than the recommended pan for this recipe (mine is an 8.5"x4.5" vs. a 9"x6"), but it just makes a super tall loaf that threatens to overflow (but never does). The top of the loaf always cracks open, but that's completely normal for this type of bread.
Adapted from Emeril Lagasse
Dumplings & Doughnuts http://www.dumplingsanddoughnuts.com/