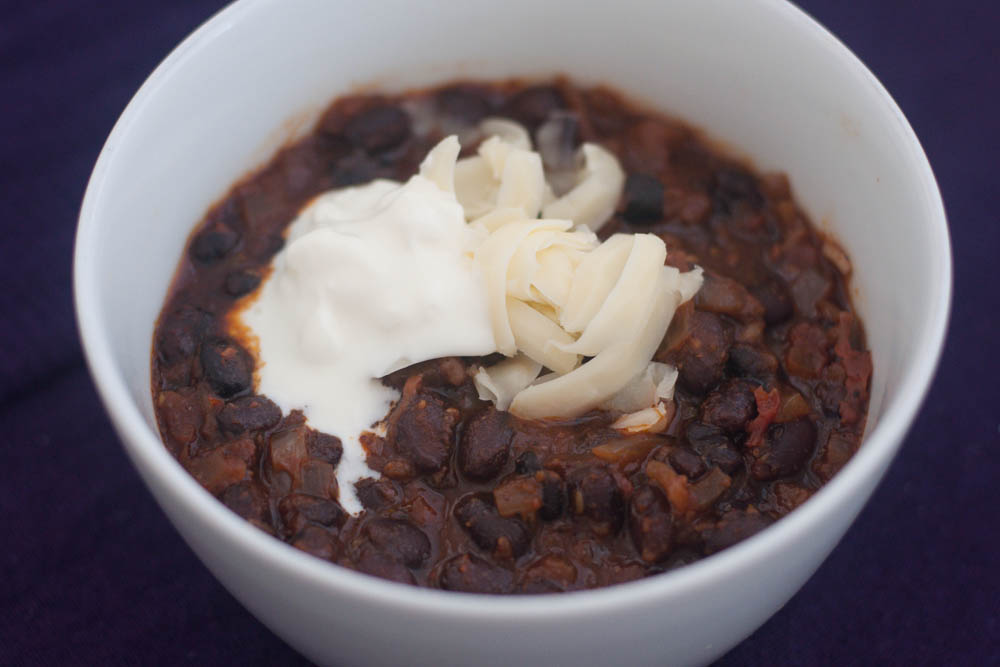 I don't know why this vegetarian chili recipe from the January 2003 issue of Bon Appétit magazine caught my attention, but I do remember making it right away for a Super Bowl party at my aunt and uncle's house. I was a senior at Wash U, I thought maybe I wanted to be a chef, I was totally addicted to food magazines and espresso drinks, and I had never tasted polenta. Oh, and I made this chili for a group of enthusiastic meat eaters (myself included). I think it went over surprisingly well…or at least I remember being pretty impressed.
Since then I've made it over and over again, partly because it's so darn easy and also healthy, but mostly because I really, really love it. Something about the cumin with the black beans and the spice all make perfect chili magic. You can make it with or without the espresso, make it as spicy or as mild as you like, serve it with all the toppings or by itself, and it's always delicious.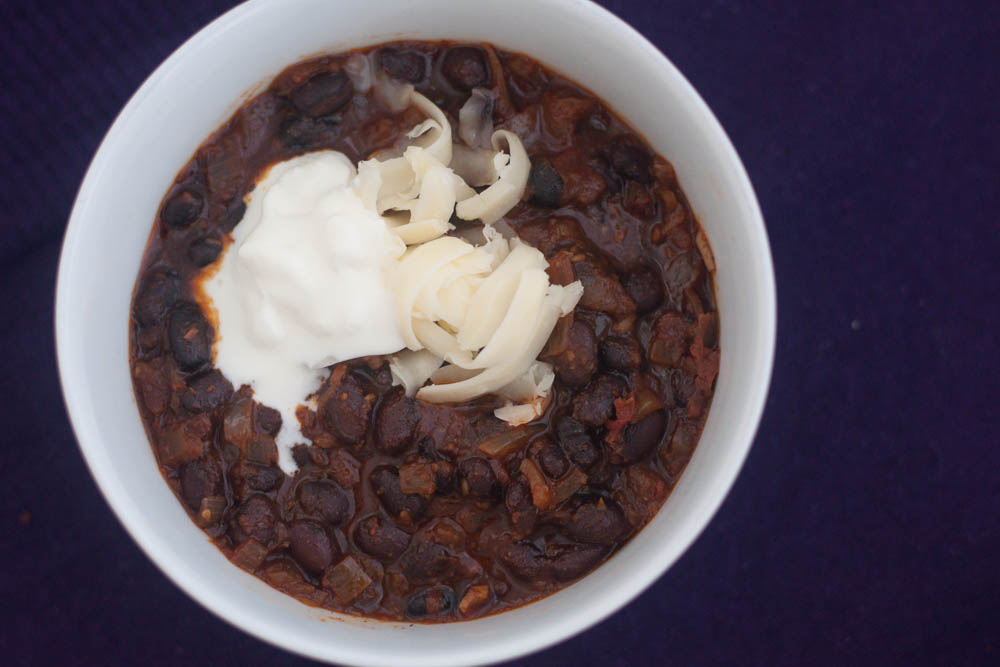 The very best thing about this chili? I found out this week that Zoe loves it. Yes, score one for "mom meals"! I set a small saucepan on a separate burner while I was mixing this up and made her batch without any chili, espresso (heavens, I can't even imagine!), and less salt. I pureed it a bit when it was cooked, and she gobbled it all down.
So, back in 2003 I barely knew what polenta was, and I hadn't ever tried it, but it makes the best accompaniment to this chili. You can make it yourself using this recipe from Bon Appétit, or go the weeknight dinner route and pick up a tube of precooked polenta at the grocery store. You just slice it, put it on a foil-lined baking sheet with a little olive oil and bake it at 350 degrees for about 20 minutes.
This recipe makes a LOT of chili, so you may be tempted to halve the recipe. While that works fine, let me just warn you that you'll be sorry. Leftovers freeze wonderfully and make great lunches.
Black Bean Chili with Espresso
2015-02-24 20:24:12
Serves 8
Ingredients
1/2 cup olive oil
5 large onions, chopped
1/4 cup instant espresso powder
1/4 cup chili powder
1/4 cup ground cumin
1/4 cup dried oregano
2 28-ounce cans crushed tomatoes
1/3 cup sugar or honey
6 large garlic cloves, minced
7 15-ounce cans black beans, rinsed and drained
2 cups water
1 tablespoon salt (or to taste)
1/4 teaspoon chipotle chili powder or chili powder
Pinch of ground cinnamon
Optional Toppings: sour cream, shredded cheese, sliced jalapenos, chopped fresh cilantro, chopped green onions, sliced chili peppers, shaved bittersweet chocolate
Instructions
Heat oil in a very large pot over medium-high heat. Add onions and cook until tender, about 8 minutes. Add espresso powder, 1/4 cup chili powder, cumin and oregano. Cook 1 minute to bloom the spices. Stir in tomatoes, sugar and garlic, and bring up to a simmer. Turn the heat down to medium-low, cover and simmer for 30 minutes. Add beans, 2 cups water, salt, additional chili powder and cinnamon. Bring to a boil over high heat, and then reduce heat again to medium and simmer uncovered until it thickens slightly, stirring often, about 30 minutes. Season to taste with salt and serve with the toppings.
Adapted from Bon Appetit
Dumplings & Doughnuts http://www.dumplingsanddoughnuts.com/