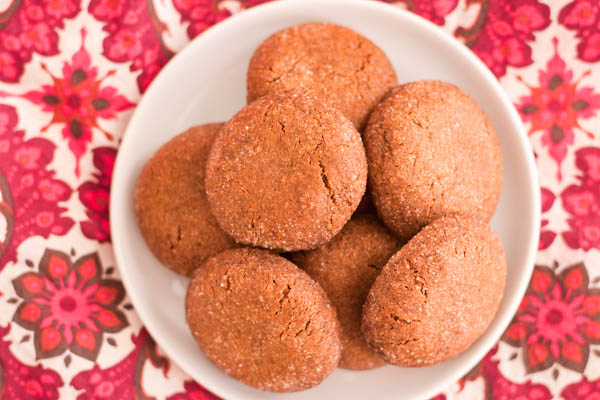 So, here's another cute, crave-able cookie. I've been on the lookout for a soft, chewy molasses cookie that doesn't use shortening. It's harder than you think, since a soft, chewy texture is usually achieved by adding shortening to cookie dough! But, given the choice, if I'm the one doing the baking, I'd much rather bake with butter.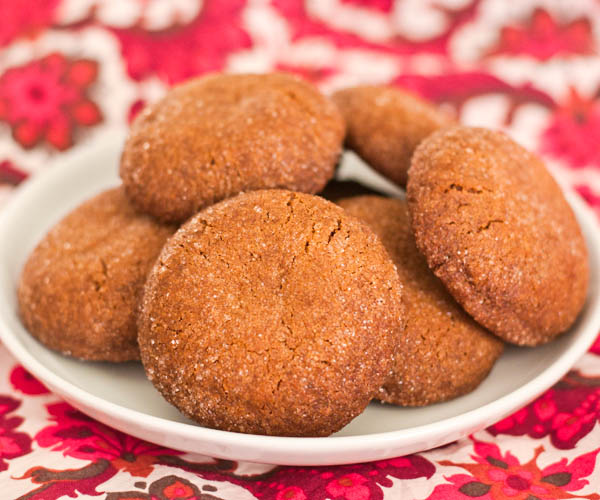 Truth be told, these cookies may be soft, but they don't quite have the chewy, ultra-moist texture I was hoping for. For that, I may have to break down and buy some shortening… But they do have their own unique, buttery flavor and a tender texture that I find irresistible.
I only baked up a handful of these, and I'm freezing the rest as dough balls, for quick treats in the baby-filled months ahead. Aaand, I did the same thing with some chocolate chip cookies last week. Yep, my cookie strategy for new-motherhood is all planned out… I'm at 37 weeks today, and totally ready. Well, at least I'll have cookies.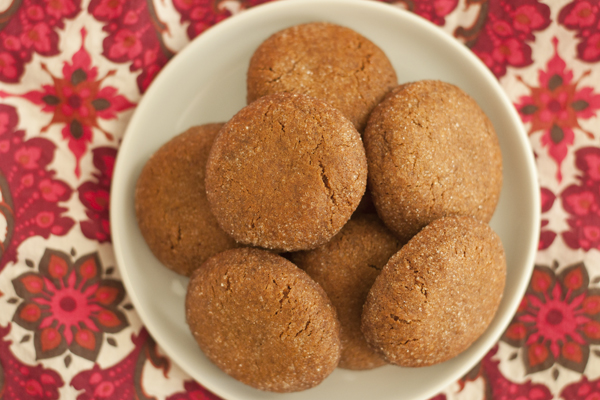 Soft Molasses Cookies
2014-01-30 22:25:57
Ingredients
3 cups flour
2 teaspoons baking soda
1/2 teaspoon salt
1 teaspoon ground cinnamon
1/2 teaspoon ground ginger
1/2 teaspoon ground cloves
1 egg, room temperature
1/4 cup molasses
1 cup sugar, plus extra for topping
1 1/4 cups (2 1/2 sticks) unsalted butter, melted and cooled
Instructions
In a bowl, mix flour, baking soda, salt, cinnamon, ginger and cloves.
In a stand mixer, mix the egg and molasses on low. Add sugar and beat on medium speed. On low speed, add the butter and beat until mixed in, scraping down the sides of the bowl with a spatula as needed.
Still on low speed, add the floor mixture in three additions.
Transfer the cookie dough to a piece of plastic wrap on your counter, wrap it tight and flatten slightly to make a disk of dough. Chill for 30 minutes to make the dough easier to work with.
Take dough out of refrigerator and line a plate with parchment paper. Divide the dough into balls, heaping tablespoons of about 1 1/2 inches. Place the balls on the plate and refrigerate for at least an hour. This keeps the dough from spreading too much while they bake.
Preheat the oven to 350 degrees and line a baking sheet with parchment paper.
Toss the dough balls in a bowl of sugar to evenly coat, and then place them on the cookie sheet about 2 inches apart.
Bake for about 14 minutes, until dark golden brown with lighter cracks. They will be puffy, but will deflate a bit as they cool.
Transfer to a wire rack to cool completely.
Adapted from Standard Baking Co. Pastries
Dumplings & Doughnuts http://www.dumplingsanddoughnuts.com/