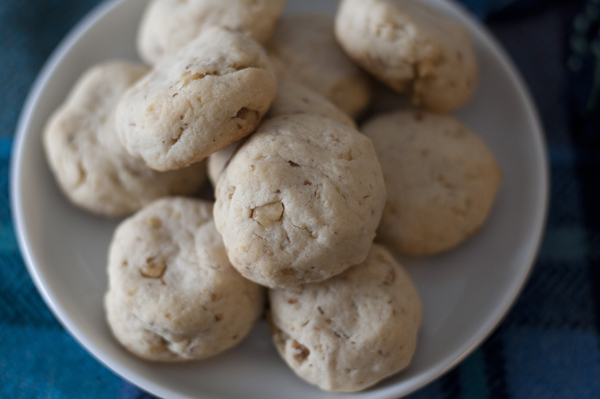 Mmm, cookies… I can't get enough cookies lately. And I'm not going to call it a "pregnancy craving" because, truth be told, I always have and probably always will crave cookies. But now, at 36 weeks and 3 days pregnant, the combination of mild sleep deprivation, growing discomfort and anxious waiting (Is that a contraction!?) has rendered my willpower to resist any sweet completely non-existent. And happily, cookies and milk make everything in life seem a little more manageable; just a tad more enjoyable.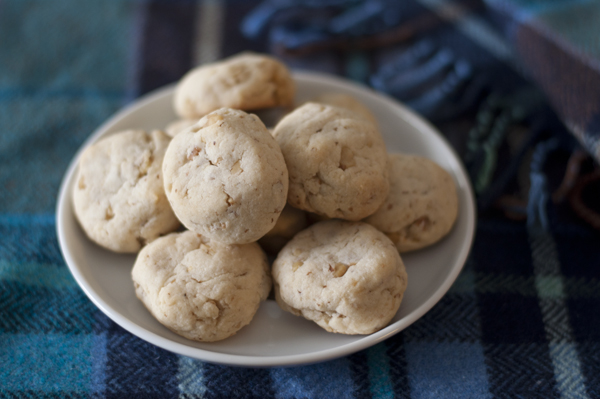 But, so I don't go too overboard, I made up one simple cookie rule: No eating cookies unless I bake them myself. It's fair enough, really… If I can muster the energy to mix up a batch of my own cookies and scrub the dishes afterwards (plus take a few blog-worthy pics as I polish my photography skills for soon-to-come baby), then I deserve a treat.
These plain little beauties don't look like much, but let me tell you, they're completely and utterly irresistible. They're not gooey or chocolaty or overly sweet… They're tender and toasty – pure comfort. And their diminutive size means you can eat more than one (which feels super indulgent) without really overdoing it. Best of all, they're one of the easiest cookies you'll ever make. Really. Just a few ingredients combine to make some serious cookie magic. Take it from the pregnant lady.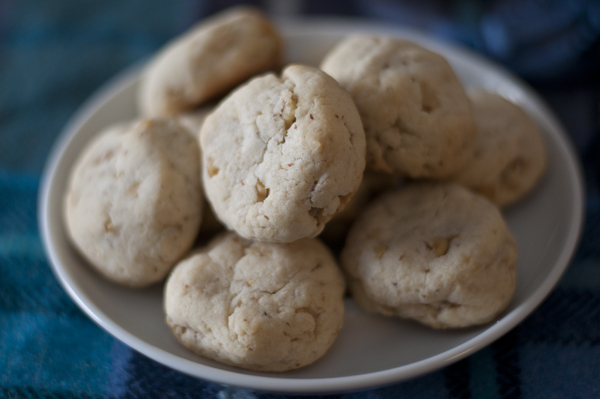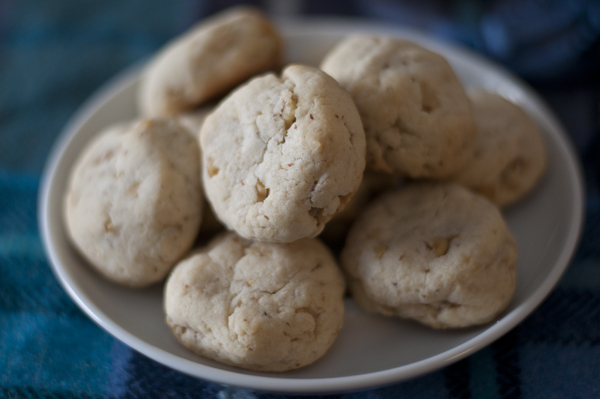 Walnut-Cream Cheese Shortbread Cookies
2014-01-27 08:32:19
Ingredients
1 cup walnuts
2 cups all-purpose flour
1 teaspoon table salt
12 tablespoons (1 1/2 sticks) unsalted butter, at room temperature
4 ounces cream cheese, at room temperature
3/4 cup sugar
1 teaspoon vanilla extract
Instructions
Preheat oven to 350 degrees F.
Toast walnuts in the oven on a baking sheet for about 10 minutes (don't let them burn!). Let them cool a bit, and then put them into a food processor and pulse a few times to roughly chop, just until all the larger pieces are broken up.
In a bowl, mix together the flour, salt and walnuts.
In an electric mixer, beat the butter, cream cheese and sugar on medium for a few minutes, until it's light yellow and fluffy. Add the vanilla and continue to mix for a minute more, scraping down the sides of the bowl with a spatula if needed. Reduce the mixer speed to low and add the flour mixture. Let it mix for just about 20 seconds, and then stop. Finish mixing the dough by hand with a rubber spatula to avoid over-mixing.
Scoop out rounded tablespoon-sized pieces of dough and roll them into balls. Place on a parchment-lined baking sheet about an inch apart, and gently press down on each cookie with your fingers or palm to flatten slightly.
Bake for 14 to 16 minutes, until lightly brown around the edges. Transfer to a wire rack and let cool.
Adapted from One Girl Cookies
Dumplings & Doughnuts http://www.dumplingsanddoughnuts.com/