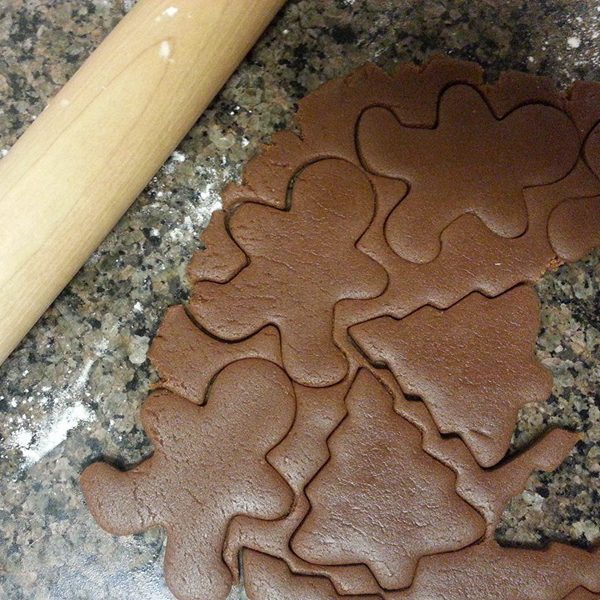 I've been trying not to go crazy with holiday sweets this year, since I'm pregnant and trying to eat healthy (oh, the pressures of eating for two!). But last week I decided to make cookies for Geoff's work… And if I got to eat a few cookies here and there, I figured I couldn't feel too guilty considering I did all the baking, right? Still, just to be safe, because I know the limits of my own self control, I decided to make the relatively harmless (I couldn't bring myself to type the word "healthy" here), yet traditional and fun gingerbread cookies.
When I stumbled upon this recipe, I was intrigued. There's no butter at room temperature, there's no hour-long wait while you chill the dough, the whole dough-making process takes place in a large saucepan. I know, like me you're thinking, "What?!?" But it's super easy to mix up, the dough is easy to roll out and work with (it's warm!), and the result is a tender, soft but firm gingerbread cookie.
Geoff loved these! He's not a huge sweets-lover, so I was surprised when he requested I make more of these. But they're spicy and flavorful without being too sweet, the perfect Christmas cookie for a non-sweets guy and this mama-to-be.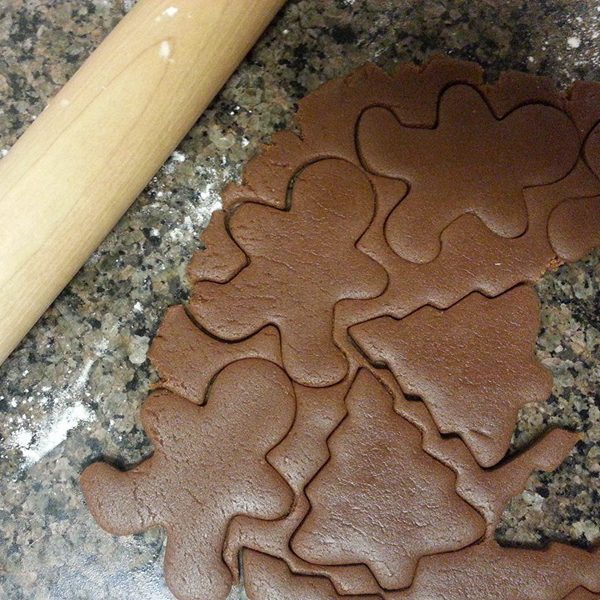 Soft Gingerbread Cookies
2013-12-23 22:41:48
Ingredients
2/3 cup molasses
2/3 cup packed brown sugar
1 tablespoon ground ginger
1 1/2 teaspoon ground cinnamon
1/2 teaspoon ground allspice
1/2 teaspoon ground cloves
2 teaspoons baking soda
2 sticks (one cup) unsalted butter, cut into 1-tablespoon pieces
1 large egg, beaten lightly
3 3/4 to 4 cups flour
1/2 teaspoon salt
Instructions
Preheat oven to 325 degrees F. Line one or two baking sheets with parchment paper or baking mats.
Add molasses, brown sugar, and spices to a large saucepan and bring it to a boil over moderate heat, stirring occasionally. Once the mixture is boiling, remove it from the heat. Stir in the baking soda (watch out, the mixture will foam up!). Then stir in the butter 3 pieces at a time, waiting until each addition melts before adding more. Add egg and stir until combined, then stir in 3 3/4 cups flour and salt.
Move the dough to a lightly floured surface and knead, dusting with as much of remaining 1/4 cup flour as needed to prevent sticking, until soft and easy to handle, 30 seconds to 1 minute. Divide the dough into two balls, and then wrap one in plastic wrap and set it aside, keeping it at room temperature.
Then start rolling! Roll the first ball of dough into a 14-inch round (1/8 inch thick) on a lightly floured surface. Use cute cookie cutters to cut out as many cookies as possible. Transfer to baking sheets and place about one inch apart.
Bake cookies until edges are slightly darker, 10 to 12 minutes total. Move baked cookies to cooling racks. Repeat with the remaining dough and the dough scraps.
Notes
Decorate with icing if desired.
Adapted from Gourmet Magazine, Dec. 2002
Dumplings & Doughnuts http://www.dumplingsanddoughnuts.com/