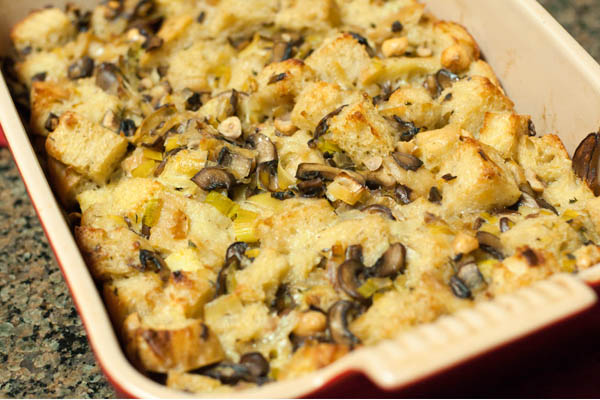 I love stuffing (or "dressing," as it's technically called when cooked outside of a bird). It's like a savory bread pudding, moist and tender on the inside with a crunchy, buttery top and nuggets of flavor tucked within. This time of year, when I'm flipping through turkey-focused food magazines and debating what recipes are going to make it onto my Thanksgiving menu, I always make a stuffing or two for weeknight dinners. Served with a big salad, or better yet, a roast chicken and a salad, it's like having a mini-Thanksgiving starring my favorite dish. Devine!

This is the first time I've used nuts in a stuffing, and I really liked it. The toasted hazelnuts added crunch and a warm, fall flavor. Earthy mushrooms and delicate leeks were the perfect combination for a stuffing that didn't disappoint. This is a simple stuffing that I would make any day of the year, Thanksgiving or not.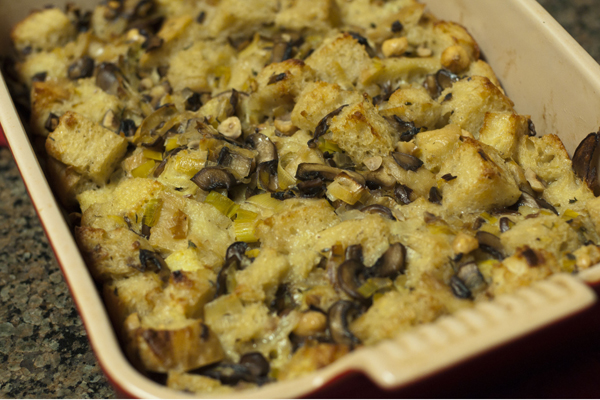 Mushroom, Leek and Hazelnut Stuffing
2013-11-19 12:40:22
Ingredients
1 stick unsalted butter, divided
1 onion, chopped
1 leek, white and pale-green parts only, halved lengthwise and thinly sliced
Salt and pepper
2 tablespoons fresh thyme leaves
1 1/2 pounds cremini mushrooms, thinly sliced
3 cups chicken broth, fresh or low-sodium
1 1/2 pound loaf day-old, rustic bread, like Ciabatta, crust removed, sliced into 1-inch cubes and slightly toasted in the oven
3/4 cup hazelnuts, toasted and coarsley chopped
3 large eggs, beaten
Instructions
Preheat oven to 375 degrees F and butter a 13x9-in baking dish.
In a large saute pan, melt 2 tablespoons of butter over medium heat. Add onion, leek and salt, and cook until softened, about 8 minutes. Add thyme for a few seconds of cooking and then transfer the cooked mixture to a bowl.
In the same pan, melt 2 more tablespoons of butter and raise the heat to medium-high. Saute the mushrooms in two separate batches to avoid crowding the pan, adding salt and stirring occasionally, until golden brown, 4 minutes. Transfer to the bowl with the leek and onion as they're cooked.
Return the pan to the stove and add broth. Bring to a simmer.
Place the toasted bread cubes into a large bowl. Pour the broth mixture over the bread and add the mushroom and leek mixture, as well as the eggs. Season with salt and pepper. Gently stir the stuffing mixture together and then transfer to the baking dish.
Cover and bake for 30 minutes. Uncover and dot the top of the stuffing with the last 2 tablespoons butter. Bake until the top is browned and crisp, about 35 minutes. Let cool 15 minutes before serving.
Adapted from Martha Stewart
Dumplings & Doughnuts http://www.dumplingsanddoughnuts.com/