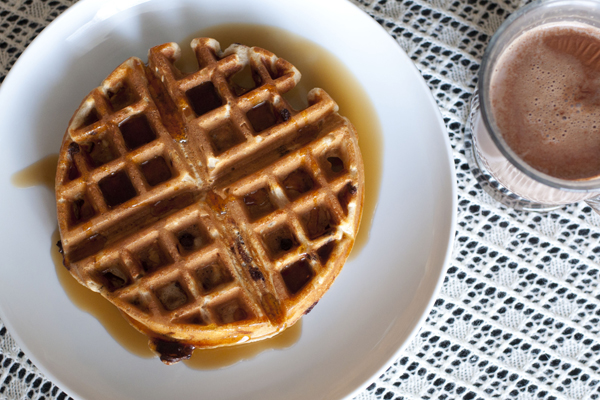 I'm happy to report that I've survived another pumpkin season, working at my family's business Vala's Pumpkin Patch in Gretna, Nebraska! One of the most fun things we did at the pumpkin patch this year was to host a pancake breakfast every Saturday in October. My sisters and I had to report to the farm bakery at 7am sharp, prep pancake batter, bacon and coffee for around 100 people and hope we could keep up with the flipping and serving. This event was a labor of love really – it was our Grandpa Ernie's idea, back in the day, and we're using our Grandpa Chuck's from-scratch Buttermilk Pancake recipe, and well… our family just loves good pancakes, and we had fun sharing this passion with early-bird farm guests.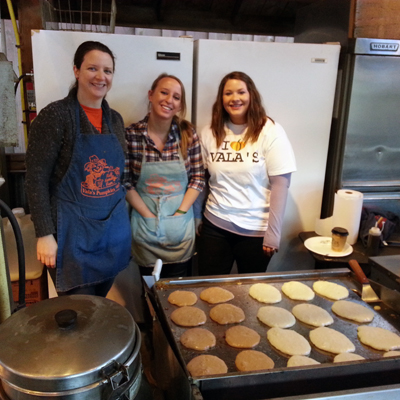 So naturally, my first Saturday morning back in Boston, reunited with my sweetie pie, I decided to switch up my delicious routine a bit (but not too much) and make waffles. I really like oatmeal waffles and pancakes because you get the extra texture and heartiness from the oats. I also added walnuts and a handful of mini chocolate chips to the batter (Geoff always requests chocolate chips in his pancakes). And mmm-mmm, these were just what we needed to kick the weekend off right. I may not have to whip up pancakes for 100 anymore (until next year!) but I'm happy to keep the Saturday morning pancake/waffle tradition going at the Fong house.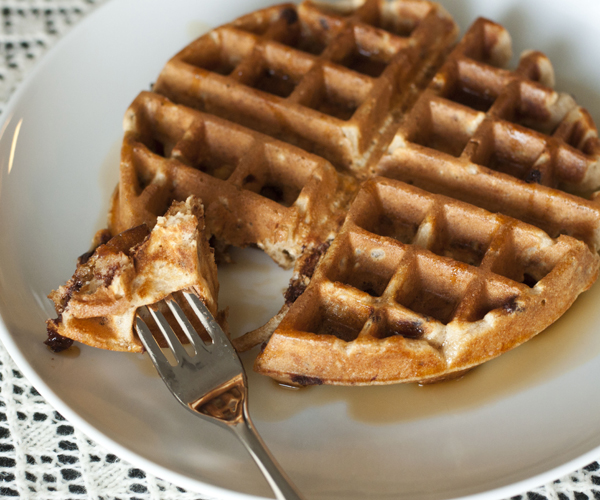 Also, to go with our breakfast's chocolaty theme, I made hot cocoa by simply simmering milk in a pan on the stove and whisking in a spoonful of sugar and a couple spoonfuls of unsweetened cocoa powder. Give it a taste and adjust the sweetness to your liking. It's just too simple – you have to do this. Why have I been buying hot cocoa mix for so long?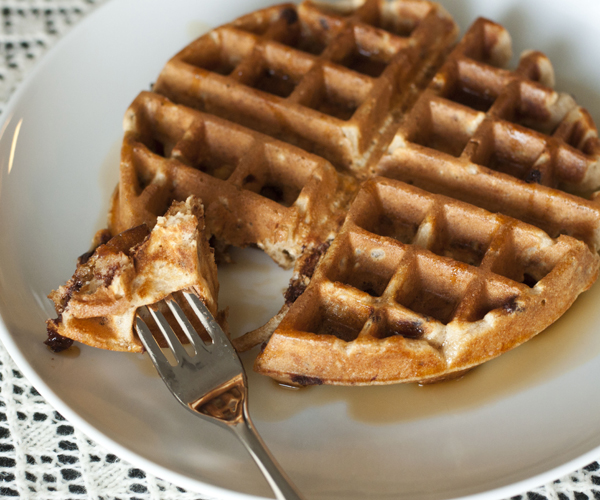 Oatmeal-Walnut Waffles
2013-11-13 13:37:17
Serves 4
Ingredients
1 1/2 cups all-purpose or whole-wheat pastry flour
1/2 cup quick-cooking or old-fashioned oats
3 tablespoons brown sugar
1 tablespoon baking powder
1/2 teaspoon salt
2 eggs
1 1/2 cups milk
1/4 cup butter, melted
1/2 cup chopped walnuts (optional)
1/4 cup mini chocolate chips (optional)
Instructions
In a large bowl, mix up flour, oats, sugar, baking powder and salt. In a smaller bowl mix up the eggs, milk and butter. Add the liquid ingredients to the dry ingredients and stir until just combined. Fold in the walnuts and chocolate chips, if using. Let the batter rest for about 10 minutes.
Heat your waffle iron, wipe it down with a little oil and scoop about 1/2 cup of batter onto the hot iron. Cook until the waffle is toasty brown, about 2-3 minutes. Serve hot with butter and maple syrup.
Notes
This same recipe can be used to make Oatmeal Pancakes.
Adapted from The Pancake Handbook
Dumplings & Doughnuts http://www.dumplingsanddoughnuts.com/