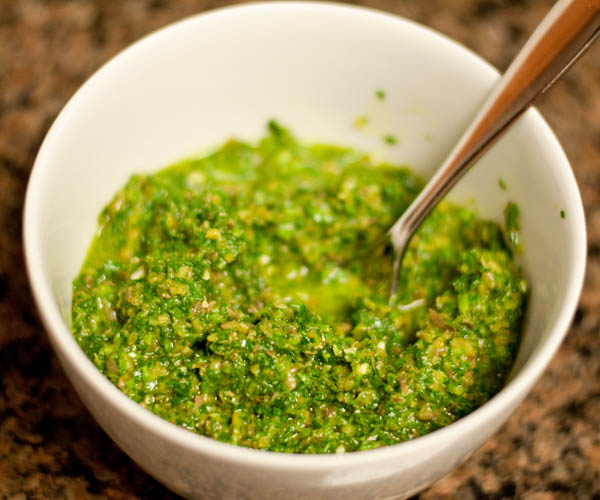 There's nothing like a big bowl of herbs, mixed with tangy gherkins and salty capers, to make you feel like summer is here. G has made this salsa verde for me for years, an old-school Jamie Oliver stand-by from The Naked Chef (Jamie's first cookbook and G's favorite). You really can't go wrong with this salsa, whether you're serving it with steak, chicken, fish, or veggies — it makes anything and everything on your dinner plate pop with fantastic flavor.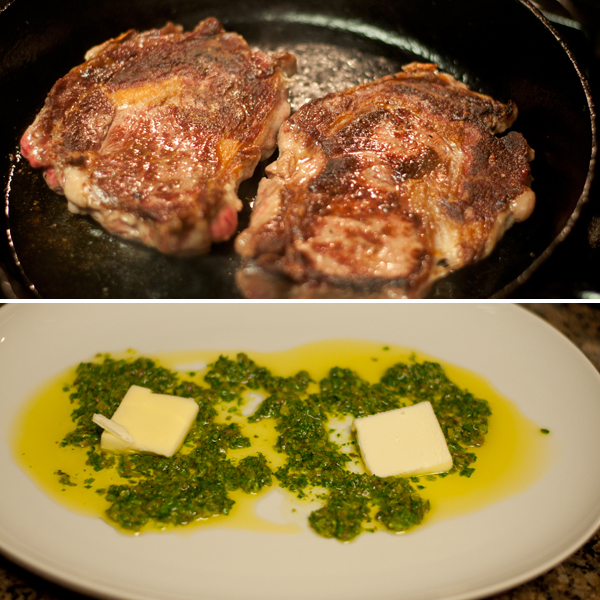 This is an Italian-style salsa verde, or green sauce, a cousin of Argentinian chimichurri. I made a little herb/butter/oil bed for my seared steak to rest in, so it would soak up all the flavor. Mmm. . .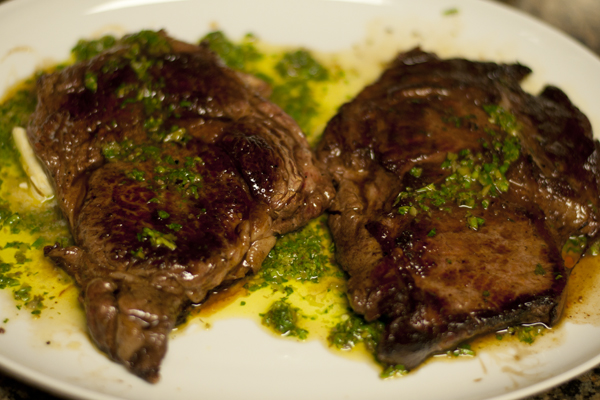 The measurements for this salsa are all approximations (this isn't like baking a cake, obviously). It's Jamie Oliver-style, at his best, meaning a few handfuls of this and that, and it's good every time. Just be sure to give it a taste before serving, so you can make any adjustments.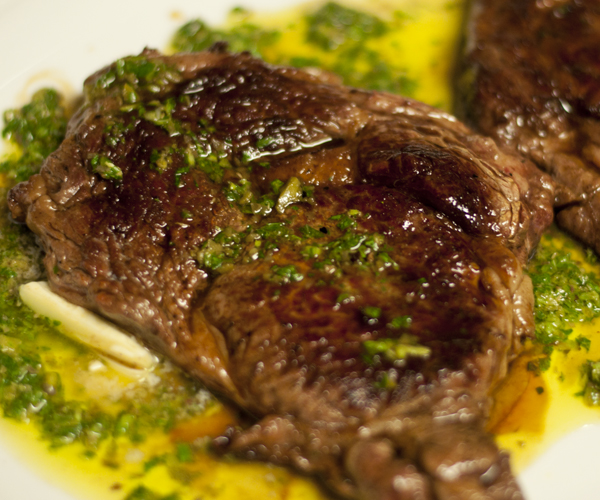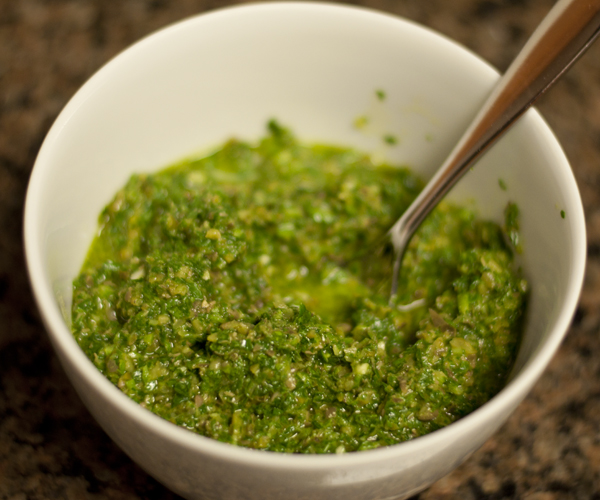 Salsa Verde Recipe
2013-06-15 17:25:53
Ingredients
2 cloves garlic, peeled
2 tablespoons capers
8 pickled gherkins (small pickles)
2 handfuls of flat-leaf parsley
1 bunch of fresh basil
1 handful of fresh mint leaves
1 tablespoon Dijon mustard
3 anchovy fillets (optional)
3 tablespoons red wine vinegar
1/2 cup olive oil
Instructions
Put all ingredients except the oil and vinegar into the food processor an pulse until roughly chopped. Add the olive oil and pulse a few more times. Give it a taste and add a little salt and pepper, and possibly some more vinegar if you like. Serve with steak, or any meat, fish or vegetable.
Notes
You can also chop it all by hand, if you like, which Jamie Oliver recommends.
Adapted from The Naked Chef by Jamie Oliver
Dumplings & Doughnuts http://www.dumplingsanddoughnuts.com/