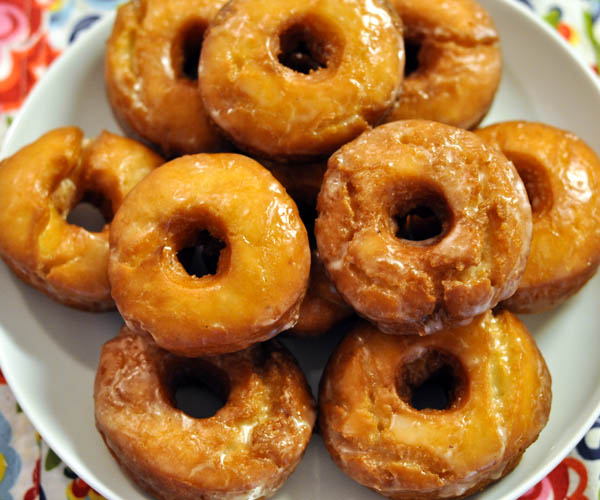 Finally, a blog post about doughnuts! First of all, happy National Doughnut Day. You wouldn't know it to look through my past blog entries (although the title of this blog gives it away), but doughnuts are my absolute favorite indulgence. And, as it happens, it has been quite a wonderful doughnut year for me.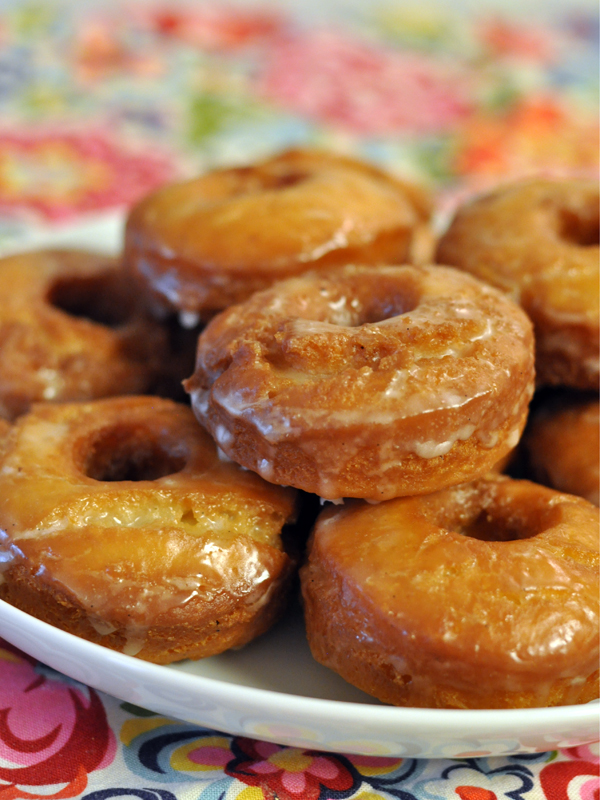 Along with a couple other very important roles I fill at my parents' business, Vala's Pumpkin Patch, I am also the Chief Donut Maker (CDM?). Last September and October I woke up before dawn most mornings, trudged down to the farm and warmed up by the doughnut fryer, peeling off layers of clothing as the hot oil warmed up the barn where I worked. By 9am, when the pick-your-own farm opens up for eager families and children, I had delivered hot donuts to (ahhem) Kirsten's Coffee House. Did I mention I also love coffee?
So naturally, during the off-season, my job is to scout out, search out and try out the best doughnuts around, all in the name of research. It's a dream job, even if it is tough on the waistline.
When I got the chance to travel to Seattle in February, I was thrilled to visit the famous Top Pot Hand-Forged Doughnuts. Small doughnut shops are the best, but this one hit it big time when their popularity in coffee-obsessed Seattle grew and grew. Now they're super successful and, amazingly, they make doughnuts for Starbucks stores everywhere.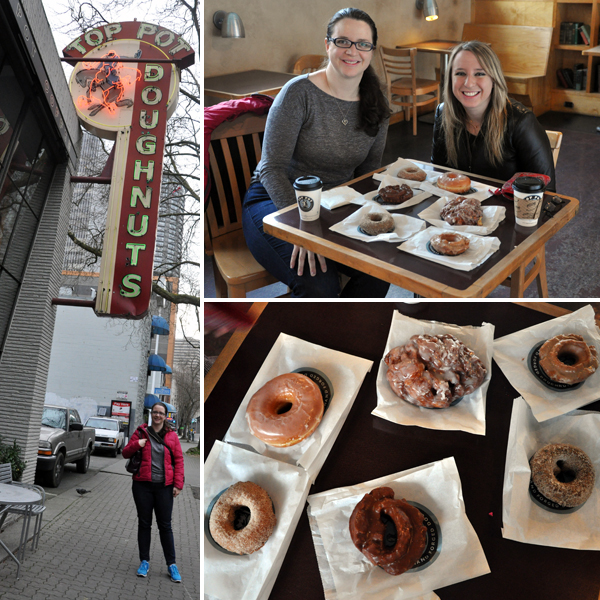 And their store did not disappoint – Top Pot Doughnuts is a doughnut lover's paradise. I was overwhelmed, ate far too many doughnuts, drank a ton of excellent coffee and was completely happy the rest of the day.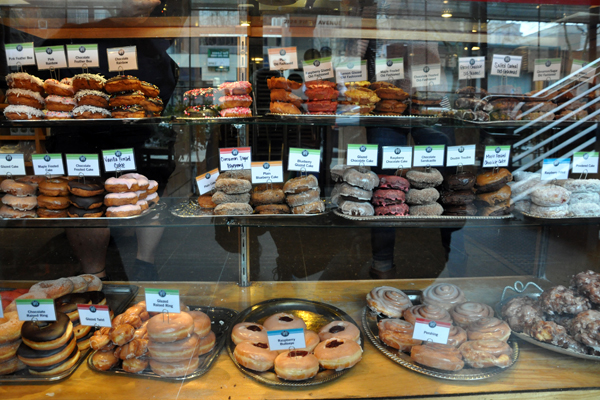 I use their coookbook, Top Pot Hand-Forged Doughnuts: Secrets and Recipes for the Home Baker as my doughnut-making bible. If you have a chance, check out this little essay about the making of the cookbook (how freelance writer Jess Thomson tested 50 doughnut recipes in 5 weeks!) – Tales from the Doughnut Queen.
My favorite type of doughnut is the classic, simple old-fashioned cake doughnut. This one adapted from Top Pot, is made with sour cream, for extra flavor and moistness. It's also fried at a lower temperature than most doughnuts, which causes the characteristic cracks and crevices. Give it a try for national doughnut day!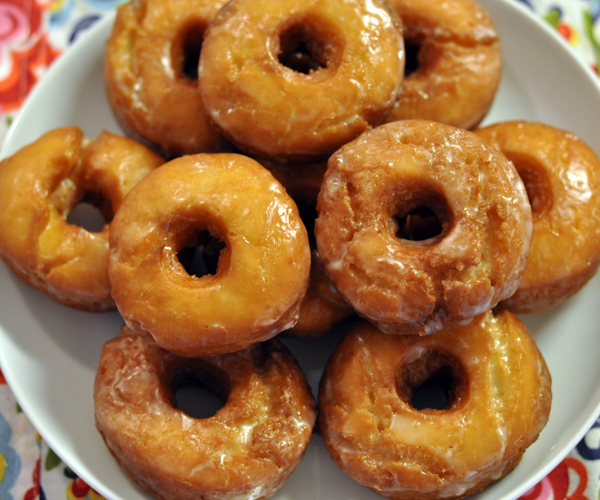 Old-Fashioned Doughnuts with Vanilla Glaze
2013-06-07 10:21:50
Ingredients
2 1/4 cups unbleached cake flour
1 1/2 teaspoon baking powder
1 teaspoon salt
1/4 teaspoon freshly grated nutmeg
1/2 cup sugar
2 tablespoons shortening, trans-fat free
2 egg yolks
2/3 cup sour cream
Oil for frying (Canola or vegetable oil)
For the Glaze
1 3/4 cup powdered sugar
1 teaspoon light corn syrup
1/8 teaspoon salt
1/4 teaspoon pure vanilla extract or vanilla paste
Instructions
In a large bowl, mix up flour, baking powder, salt and nutmeg.
In a stand mixer, beat the sugar and shortening until sandy, about 1 minute. Mix in egg yolks and beat for about 1 minute more. Add the sour cream and mix.
With the mixer on low speed, stir in the flour mixture until completely incorporate. It should be a soft, moist dough. Form the dough into a ball, wrap in plastic wrap and chill for an hour or overnight.
Fill a large, heavy pot with 2-3 inches of oil and heat to 325 degrees F.
Meanwhile, press and roll out the dough on a floured surface until 1/2-inch thick. Cut out doughnuts and holes with a 3-inch and a 1/2-inch circle cutters. Cut out as many doughnuts and holes as possible, and then re-roll scraps and cut out remaining doughnuts and holes.
Since the oil temperature will drop when you add the doughnuts, let it overshoot the target a bit, coming up to 330-335 degrees F before you begin. Then dust loose flour off the doughnuts and gently drop them into the hot oil, working in small batches and being careful not to over-crowd the pot.
When the doughnuts float to the top of the oil, let them fry for just 15 seconds before flipping them over. Let them fry for about a minute and a half, until golden and cracked on the underside. Flip again, and let them cook on the first side until golden and cracked, about a minute and a half more. Keep an eye on the oil temperature and try to keep it as close to 325 degrees F as possible the entire time. Transfer cooked doughnuts to a cooling rack set over paper towels to catch the grease. Repeat with all batches.
For the doughnut holes, use a spider to gently lower them into the oil and cook until golden brown all over, turning and rolling them around in the oil periodically.
For the glaze, whisk together the powdered sugar, corn syrup, salt, vanilla and 1/4 cup of hot water until smooth. While the doughnuts and the glaze are still warm, dip the most crinkled side of the doughnuts into the glaze, and then return them to the drying rack, so the excess glaze drips off.
Notes
Making perfect doughnuts really depends on the oil temperature. Be diligent about checking it constantly, to keep it as close to 325 degrees F as possible. Also, a little too high is better than a little too low, when you're aiming for a temperature this low. Happy frying!
Adapted from Top Pot Hand-Forged Doughnuts: Secrets and Recipes for the Home Baker
Dumplings & Doughnuts http://www.dumplingsanddoughnuts.com/