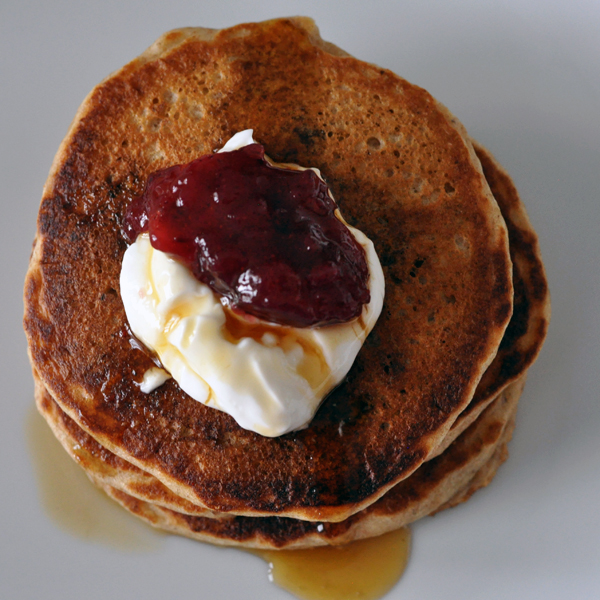 My Mom doesn't really enjoy cooking, but she always makes pancakes. Maybe that's why all the sights and smells of pancakes cooking – an electric griddle sizzling with oil as it pre-heats, scoops of delicate globby batter (don't overmix!), the pancakes lightly frying as batter touches griddle – they all envelop me in a comforting blanket of childhood, with memories of loving, sweet mornings with family.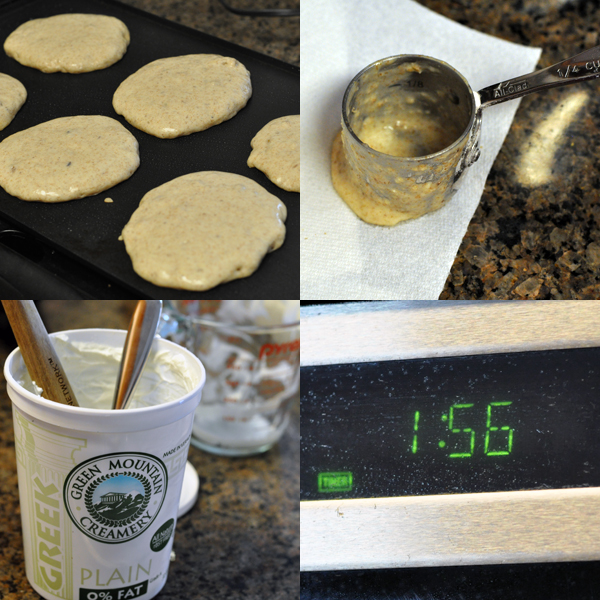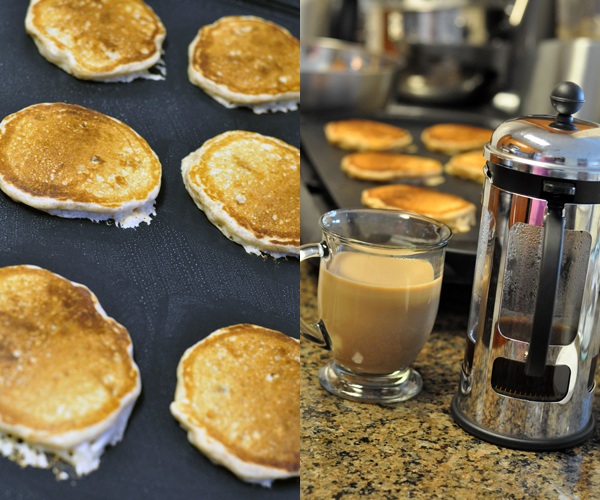 But even if I'd like to pretend that pancakes made with love and caring and lots of heart have to be calorie-free, I crave them way too often to turn a blind eye towards nutrition. For my little family, just G and me, I make a small batch of Whole Wheat Pancakes that really hits the spot. The whole grains give the pancakes a hearty, wholesome texture and flavor. And to cut down on sugar I serve them with yogurt and preserves (usually lingonberry preserves, if I have them), along with pure maple syrup.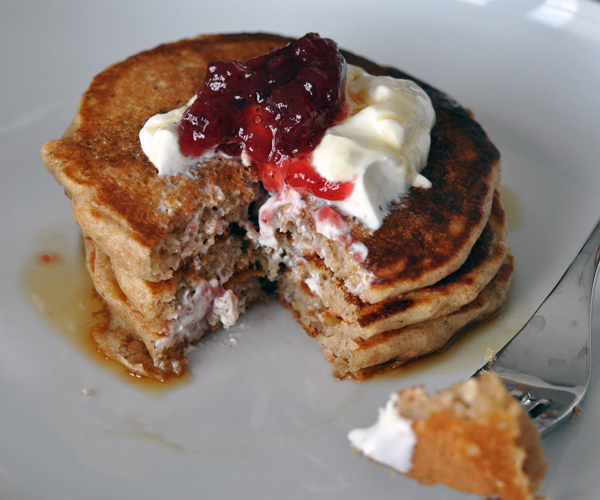 I even make this pancake into my own mix – just measure out several Zip-Lock bag's worth of dry ingredients at a time. Then, when you want to make a batch, you just need to add the wet ingredients, the main one being Greek yogurt.
And can I say how much I love plain Greek yogurt? I eat it all the time, with preserves, with fruit, with honey, as a sub for sour cream. . . So it's pretty much always in my fridge (unless I've just eaten the last of it, which almost happened this morning, pre-pancakes – yikes!).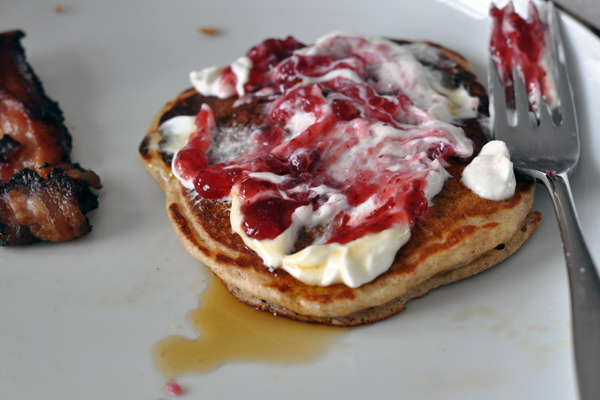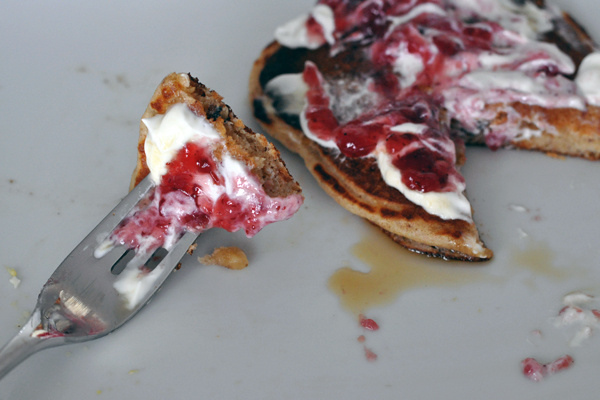 This recipe is for two, but of course you can double it for four people, and leftover pancakes freeze great. Sometimes I make a double batch just to have leftovers to freeze – you can pop frozen pancakes into your toaster for a welcome weekday treat.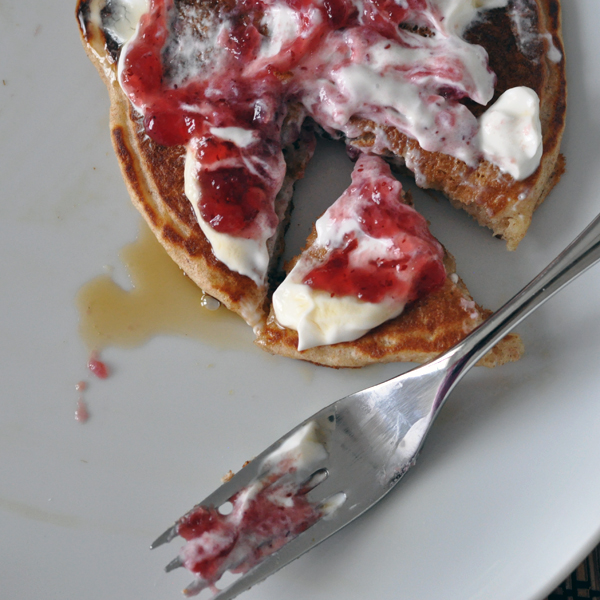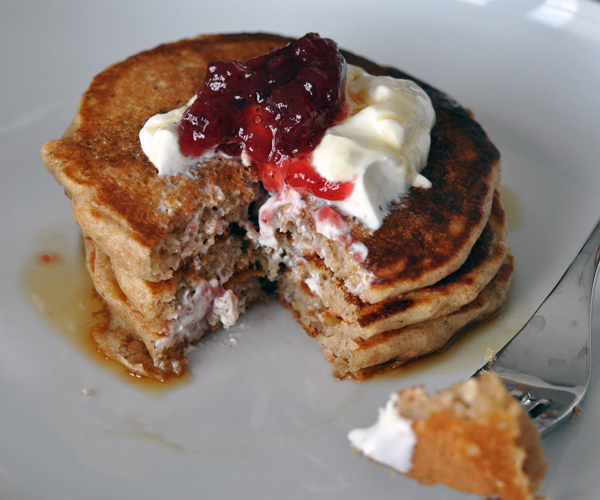 Whole Wheat Pancakes for Two
2013-05-11 14:24:58
Ingredients
1/2 cup whole wheat flour
1/4 cup all-purpose flour
3 tablespoons wheat germ
1/2 tablespoon ground flaxseed
1 teaspoon baking powder
1/2 teaspoon baking soda
1/4 teaspoon salt
1/4 cup chopped walnuts
1 large egg
1/2 cup Greek yogurt
3/4 cup milk
1/8 cup vegetable oil
1 1/2 tablespoons brown sugar
Yogurt, fruit preserves and pure maple syrup for serving
Instructions
Whisk together the dry ingredients in a large bowl, the flours, wheat germ, flaxseed, baking powder, baking soda and salt. Add the walnuts and give it a stir. In a smaller bowl, whisk together eggs, Greek yogurt, milk, vegetable oil and brown sugar.
Add all the wet ingredients to the dry ingredients and stir gently with a spatula, until just combined. The batter will be lumpy. Let the batter rest at room temperature for about 10 minutes.
While the batter is resting, preheat an electric griddle to 375 degrees F. (You can also use a stovetop griddle or heave skillet.) Lightly oil the griddle, and then drop 1/4 cup scoops of batter onto the griddle, being careful not to crowd them. Cook for 2 to 3 minutes, until bubbles pop up on the top and the underside is lightly browned. Flip! Then cook for 2 minutes more, until that side is browned. (I make sure to set a timer for 2 minutes on each side, since the outside can be browned while the insides are still undercooked – not yummy.)
To keep your pancakes warm while you make another batch, heat your oven to 250 degrees F and then turn it off, so it's just warm. Put the hot pancakes on a baking sheet or in a casserole dish, cover with foil and pop them into the oven until you're ready to serve them.
Notes
For the best results, try to have all the wet ingredients at room temperature before mixing up this batter.
Adapted from The Pancake Handbook: Specialties from Bette's Oceanview Diner
Dumplings & Doughnuts http://www.dumplingsanddoughnuts.com/