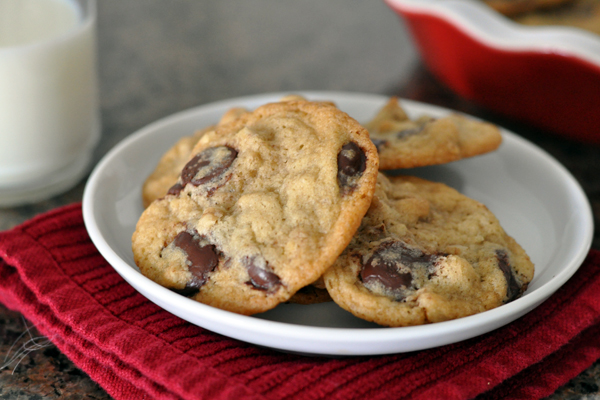 If you were a cookie, what kind of cookie would you be? I can't remember where I first heard this question, but somehow it stuck with me – I went through a period in college where it became my conversation starter of choice. Friends and new acquaintances would tell me their cookie and I would confidently spout out their personality profiles, like a fortune teller working on a Psych degree. And maybe I was just good at imagining stories, but it really did seem like people's answers were a reflection of their personalities (watch out for those Oatmeal Raisin types!).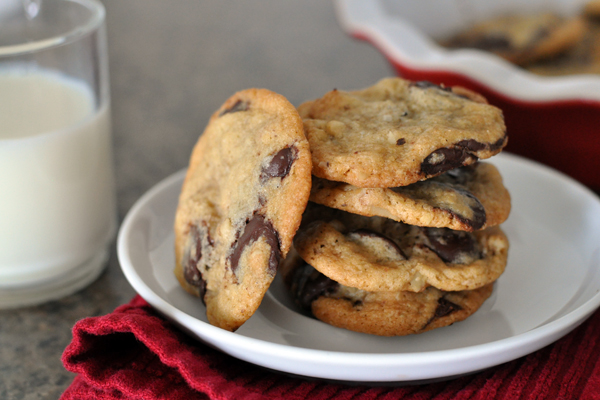 And my answer to the question? Chocolate Chip: Classic, traditional, cheerful, easy-going, sweet and simple, always welcome, and, most of all, everyone loves Chocolate Chip Cookies. And that is why every baker needs a go-to Chocolate Chip Cookie recipe in their apron pocket.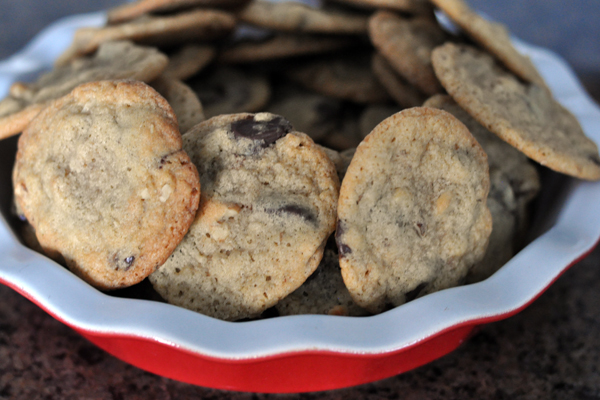 I grew up baking the original Nestle Toll House version of this cookie with my Mom, and back in college I often baked a store-bought mix version in the dorm kitchens. But now that I'm more grown up (at least food-wise), I've graduated to Dorie Greenspan's slightly doctored up Toll House recipe, from Baking: From My Home to Yours. There's a little bit more sugar, a tad bit more butter, double the vanilla and a whole new level of chocolate goodness, thanks to bittersweet chocolate (less sweet, more chocolate-y… enough said).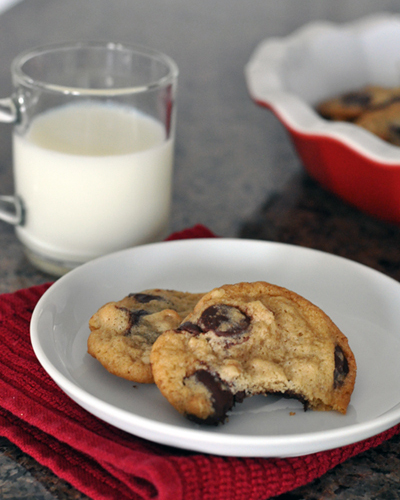 As a rule of thumb, the better the chocolate, the better the cookie. And I really do like chunked up, high quality chocolate in these, but more often than not I use Ghirardelli 60% Cacao Bittersweet Chocolate Chips. Mostly because I'm always looking for a shortcut, and this Cook's Illustrated taste test gave me an excellent excuse to go the chip route.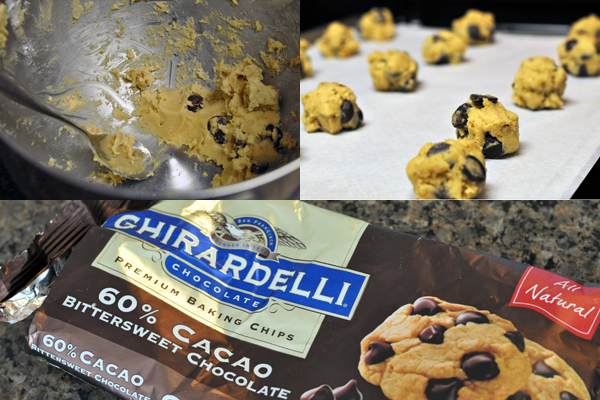 I make these every chance I get, for all occasions, get-togethers and celebrations, anytime baking is called for or my husband feels like his sweet tooth is being neglected. There's always a bag of chocolate chips in my cupboard, at the ready, waiting to become a batch of these warm, comforting cookies.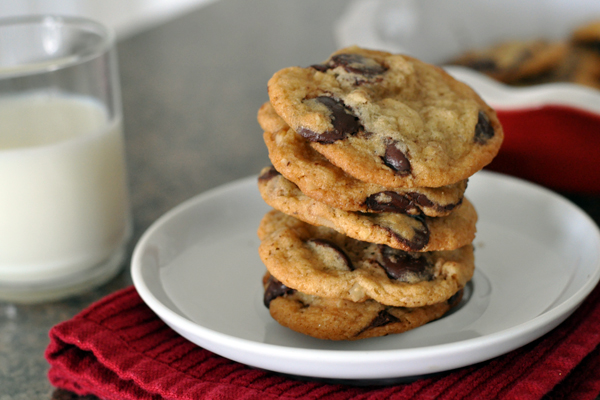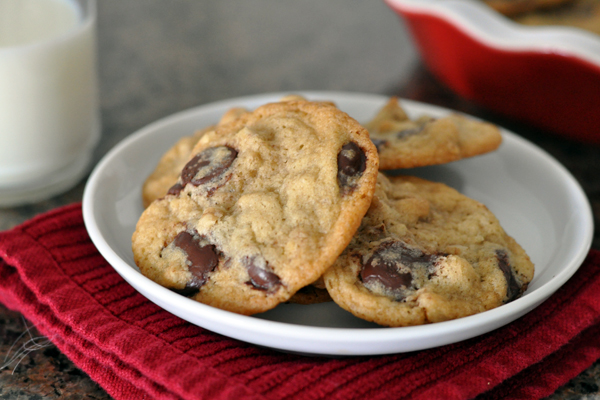 Chocolate Chip Cookies
2013-05-08 21:15:09
Ingredients
2 cups flour
1 teaspoon salt
3/4 teaspoon baking soda
2 sticks unsalted butter, room temperature
1 cup sugar
2/3 cup brown sugar
2 teaspoons vanilla extract
2 large eggs
10-12 ounces bittersweet chocolate chips or chunks
1 cup chopped walnuts or pecans
Instructions
Preheat oven to 375 degrees F and line 2 baking sheets with parchment paper.
In a medium bowl, whisk the flour, salt and baking soda together.
In a stand mixer, beat the butter on medium speed for about a minute, until smooth. Add the white and brown sugars, and beat for a few more minutes. Add vanilla, and then beat in each egg one at a time, letting the mixer run for a minute between each addition and scraping down the sides with a rubber spatula as needed. With the mixer on low, add the dry ingredients in three additions, mixing until each is incorporated. Using a rubber spatula, stir the chocolate chips and nuts in by hand. Cover the dough with plastic wrap and let it chill for at least an hour.
Drop rounded tablespoons of dough onto your cookie sheets about 2-inches apart.
Bake cookies, one sheet at a time on the middle oven rack, for 10 minutes. They should be brown around the edges and golden, and a little soft, in the center. Let the cookies rest on the baking sheet for 1 minute after removing from the oven, and then place on a cooling rack. Cool the baking sheets between batches.
Serve dunked in milk for a comforting, nostalgic treat!
Adapted from Baking: From My Home to Yours by Dorie Greenspan
Dumplings & Doughnuts http://www.dumplingsanddoughnuts.com/