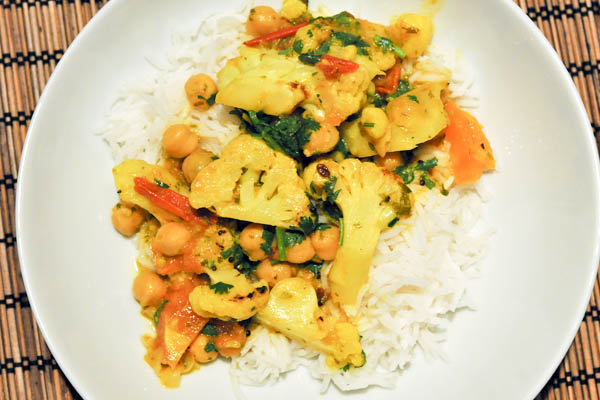 Mmmm, curry. . . I'm pretty sure I have a curry addiction. Sometimes I just crave it, and then, nothing satisfies me more than reaching deep into my spice cabinet for mustard seeds, turmeric and fenugreek seeds, and whipping up homemade Indian food like a pro. And recently, I was thrilled to discover a local Asian market that carries fresh curry leaves. There's nothing better!
One of my favorite sources for homemade quick curry recipes is Jamie Oliver. And, strange as it may seem when you first think about it, there's a strong Indian food tradition in the UK, stemming from centuries of trade and close relations (Chicken Tikka Masala is a British dish!). So Jamie knows and loves his curry dishes, and I'm never disappointed with his recipes. He describes this dish in particular as Keralan, inspired by the regional cuisine of Southwest India.
This recipe was part of Jamie's 15-minute meal collection. It took me 45 minutes. But I was sipping wine and watching TV and chatting with my husband, so. . . not bad. I like that this uses light coconut milk to cut a few calories and I traded the can of pineapple chunks for about 1/2 cup of orange juice (sadly, G hates pineapple). And did I mention this is a meatless meal? Bonus! With all the flavorful spices, we didn't miss having meat at all.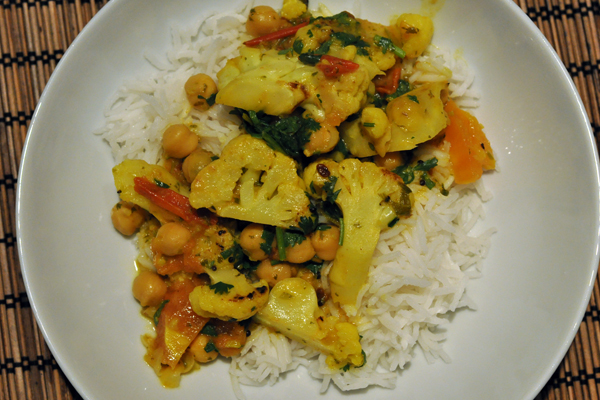 Cauliflower Curry Dinner
2013-04-19 09:43:21
Ingredients
2 tablespoons, plus 1/2 teaspoon canola oil
1/2 cauliflower, outer leaves removed
1 1-inch piece of ginger, peeled
2 garlic cloves, peeled
6 scallions, trimmed
1 fresh red chili pepper
1 large bunch fresh cilantro
1 heaping teaspoon black mustard seeds
1 heaping teaspoon fenugreek seeds
1 heaping teaspoon turmeric
10-12 fresh (or dried) curry leaves
2 ripe tomatoes, roughly chopped
1 14-ounce can light coconut milk
1 15-ounce can of chickpeas, drained
1/2 cup orange juice (or 1 8-ounce can of pineapple chunks in juice)
1/2 lemon, juiced
Basmati rice to serve: For a little extra flavor, throw about 10 whole cloves and 1/2 a lemon into the pan of rice before putting the lid on to let it cook.
Instructions
Slice the cauliflower into 1/2-inch slabs. Lightly oil a griddle pan or cast iron skillet, heat on medium-high and throw on the cauliflower slabs. Keep an eye on them and flip when they're lightly charred on one side, about 3-5 minutes per side (they don't need to be fully cooked, but you want them to have some color).
In a food processor, pulse the ginger, garlic, scallions, red chili pepper and the stalks of the cilantro until finely chopped.
In a large skillet, heat the 2 tablespoons of oil over medium heat and stir in the mustard and fenugreek seeds, turmeric and curry leaves. Stir and cook until the mustard seeds start to pop. Stir in the chopped mixture from the food processor and cook for a minute. Add the chopped tomatoes, coconut milk, drained chickpeas, orange juice (or the pineapple chunks with their juices), and a little salt. Chop or break up the cauliflower into bite-sized chunks and add to the skillet. Cover, turn the heat up to high and let it boil for about 5 minutes. Take the curry off the heat, stir in the lemon juice and then taste the curry to see what else it needs – add salt and possibly more orange juice, until it tastes just right. Chop the fresh cilantro leaves and sprinkle over the curry. Serve with rice.
Adapted from JamieOliver.com
Dumplings & Doughnuts http://www.dumplingsanddoughnuts.com/