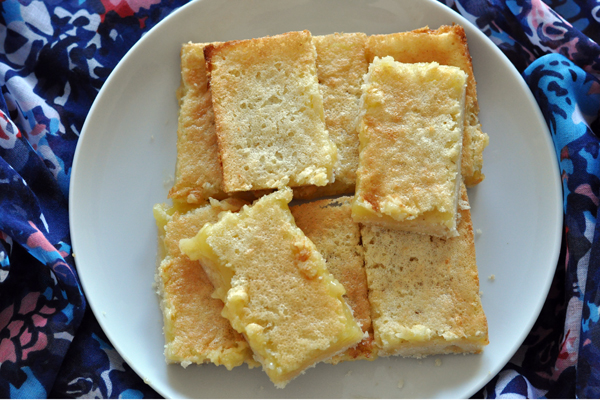 Me: Which cookbook is the recipe in?
Grandpa: [hesitates. . . then very clearly] Yes, you may have the recipe.
Me: [confused] But what cookbook is it in?
Grandpa: [shakes his head and smiles] This always happens!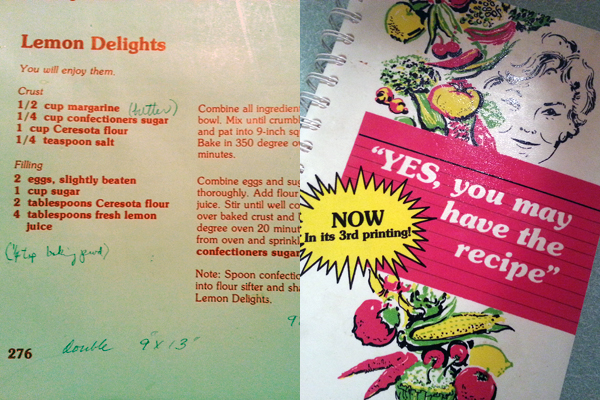 Of all the cookbooks in Grandma Hazel's old collection, this unfortunately titled one, "Yes, you may have the recipe," is the most marked-up and well-use. This cute little cookbook was self-published by Chicago author Maria Baker in 1981, and Grandma had the third printing which came out in 1983. At that time my Grandma and Grandpa were living in the Chicago area, so Grandma must have bumped into it somewhere locally and started cooking from it regularly.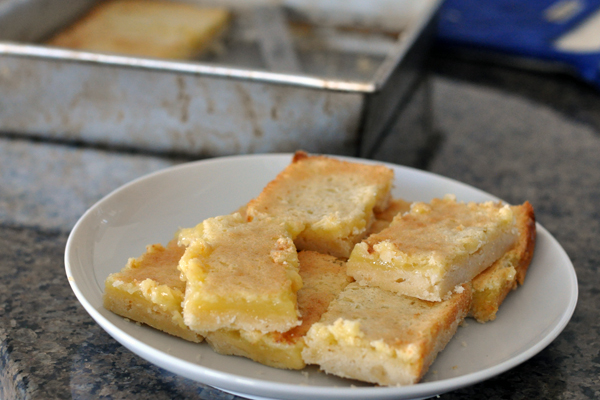 Lemon bars are a classic American sweet which became popular in the 1970's. With a crumbly shortbread cookie crust and a tangy, rich lemon topping, they're especially popular for Easter and Mother's Day celebrations (although they're so delicious and easy, you can bake them year-round). Some variations have you make a lemon topping that's a custard or a curd, but I think Grandma Hazel's version is the most pure and simple style of lemon bar – it doesn't use cream or butter, just egg, sugar, flour, baking powder and lemon juice.
Grandpa Chuck's favorite dessert is Lemon Meringue Pie, but these lemon bars are a great two-person, quick and easy substitute. Grandma was always completely averse to having too much food in her house, so a nice little 9×9-inch pan of treats that takes minutes to whip up was just her style.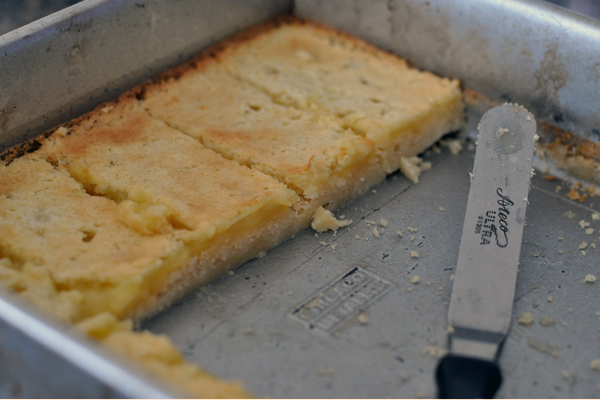 When sliced these didn't look as beautiful as I had hoped, but they really needed a few hours to chill in the refrigerator and then they would have cut cleaner – I was making these as a present, and in a hurry to get them wrapped and ready to go. Also, next time I make them I'm going to use a buttered foil or parchment paper sling to keep the bars from sticking around the edges.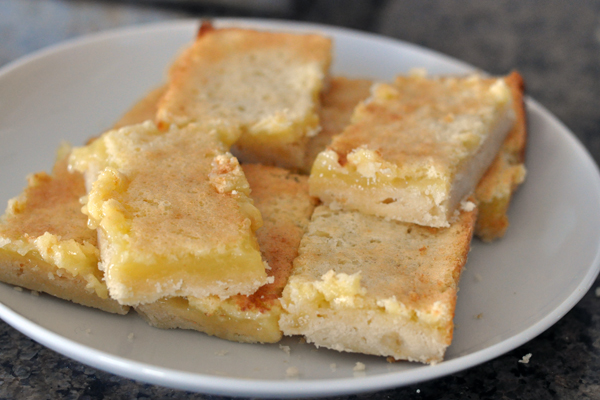 Easy Lemon Bars
2013-04-19 09:57:18
This recipe is from Grandma Hazel's recipe collection, via the 1981 cookbook "Yes, you may have the recipe."
For the Crust
1/2 cup (1 stick) unsalted butter, cold and cut into 1/2-inch cubes
1/4 cup confectioners' sugar
1 cup flour
1/4 teaspoon salt
For the Filling
2 eggs, slightly beaten
1 cup sugar
2 tablespoons flour
1/4 teaspoon baking powder
4 tablespoons fresh lemon juice
Instructions
Preheat oven to 350 degrees F. Place the butter, confectioners' sugar, 1 cup flour and salt in a bowl and mix with your fingers or a pastry cutter until the mixture is crumbly. Pat the mixture into a square 9-inch baking pan. Bake for about 15 minutes, or until the cookie crust is just a light golden brown on top. Let the crust cool slightly.
For the filling, beat together the eggs and the sugar in a large bowl. Add the 2 tablespoons flour, baking powder and lemon juice and stir until combined. Pour the mixture over the warm crust and bake for about 20 minutes, until the lemon topping is set. Let the bars cool on the countertop and then pop them into the refrigerator for easier cutting. Slice lemon bars into small squares or rectangles and sprinkle with confectioners' sugar just before serving.
Notes
Cook's Note: You can double the recipe for a 9x13-inch baking pan.
Adapted from "Yes, you may have the recipe"
Dumplings & Doughnuts http://www.dumplingsanddoughnuts.com/