I'm really a good baker. I mean, I'm great at measuring and following instructions, just like my grandmas always taught me. But somehow, this morning, I decided I was going to throw every healthy ingredient I owned into a batch of muffins (and eat as many as I wanted without feeling guilty). And I'm talking about flaxseed meal, oat bran, oatmeal (is that redundant?), applesauce, a ripe banana, oh yeah, and the buttermilk I've been trying to use up all week. I was a little out of control. And I'm usually more of a, "cook it because it's delicious and hope it happens to be healthy-ish" type of person, but I'm happy to report that, even though these muffins were baked as healthy treats, they just happen to be delicious.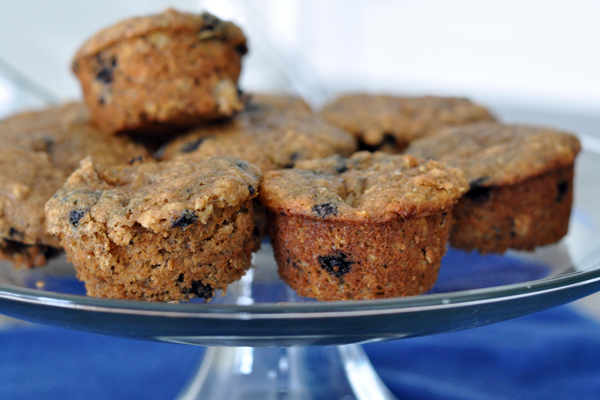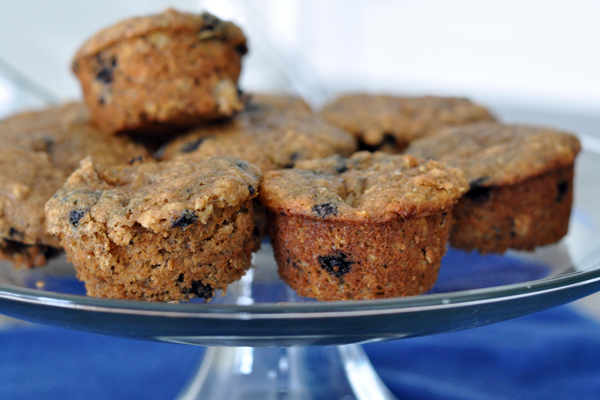 Healthy Blueberry-Banana Muffins
2013-04-19 10:14:17
Ingredients
1 cup whole wheat flour
1/2 cup white flour
2/3 cup oatmeal
2 tablespoons flaxseed meal
2 tablespoons oat bran
1 teaspoon baking soda
1 1/2 teaspoon baking powder
1/4 teaspoon salt
1/2 teaspoon cinnamon
1/4 teaspoon nutmeg
1/2 cup brown sugar
1 1/4 cups buttermilk
1 large egg, beaten
1/3 cup olive oil
1 ripe large banana, mashed
1/2 cup applesauce
1/2 teaspoon pure vanilla extract
2/3 cup frozen blueberries, still frozen
2 tablespoons raw sugar
Instructions
Preheat the oven to 350 degrees F. Coat muffin pan with cooking spray or line with muffin liners (I coated with oil, but these stuck a little so I'll use paper liners next time).
In a large bowl, whisk together the flours, oatmeal, flaxseed, oat bran, baking soda, baking powder, salt, cinnamon, nutmeg and brown sugar. Add buttermilk, egg, olive oil, banana, applesauce and vanilla and fold ingredients together with a spatula until just mixed. Add the frozen blueberries and fold in gently.
Use a measuring cup to scoop batter into muffin cups, filling all the way to the top. Bake for about 20 minutes, until a toothpick inserted into the muffin comes out clean.
Cool in the pan for 5 minutes and then transfer to a cooling rack.
Adapted from Skinnyluscious on Epicurious
Dumplings & Doughnuts http://www.dumplingsanddoughnuts.com/